@FAO. 2020 IPPC Regional Workshop for Latin America
3 September 2020 - The International Plant Protection Convention (IPPC) Regional Workshop for Latin America took place virtually on 2 and 3 September 2020 to discuss draft international standards for phytosanitary measures (ISPMs) currently under consultation, to receive updates on several IPPC activities and meetings of various subsidiary bodies, and to discuss plant health challenges in the region. The workshop was chaired by Ms Ana Lilia Montealegre Lara, Deputy Director of Harmonization and International Evaluation of the General Directorate for Plant Health at SENASICA, Mexico. The meeting was attended by over 65 participants from 20 countries and representatives of the IPPC Secretariat, FAO Sub-regional Office for Mesoamerica (SLM), Inter-America Institute for Cooperation on Agriculture (IICA) and the three Regional Plant Protection Organizations (RPPOs) that are present in the region: Comunidad Andina (CAN), Comité Regional de Sanidad Vegetal del Cono Sur (COSAVE) and Organismo Internacional Regional de Sanidad Agropecuaria (OIRSA).
Ms Adriana G. Moreira, IPPC Standard Setting and Agricultural Officer, stressed that the IPPC belongs to the contracting parties and the RPPOs, building together a global phytosanitary community. "Despite the unprecedented challenges caused by the pandemic, this year is giving us an opportunity to rethink our models and actions, to ensure efficiency and impact of our work", mentioned Ms Moreira. In addition, Ms Raixa Llauger, FAO Plant Production and Protection Officer, emphasized that with the proclamation of the International Year of Plant Health (IYPH), 2020 became the year of prevention and protection, and an intensive ongoing work is being undertaken to protect plant health at regional level.
Noting that Mexico was to host this year's workshop, Mr Javier Trujillo, Director of SENASICA Mexico and Commission on Phytosanitary Measures (CPM) Chairperson, welcomed the participants to this new modality of workshop. Mr Jorge Pedraza, CAN General Secretary, Mr César de la Cruz, Chairperson of the COSAVE, Mr Carlos Urias, Regional Director for Plant Health, and Ms María de Lourdes Fonalleras, International Specialist for IICA highlighted the opportunity for dialogue, developing consensus and capacity building for the region, especially in this challenging year to ensure food security. The three RPPOs and IICA also presented their activities in Latin America, which consisted of an extensive number of projects and initiatives on the implementation of the IPPC and its mission: protecting the world's plant resources from pests.
During the workshop, updates on Governance and Strategy, including the CPM and its Bureau, the Standards Committee (SC) and the Implementation and Capacity Development Committee (IC) were given respectively by Mr Trujillo Arriaga, CPM Chairperson, Mr Ezequiel Ferro, SC Chairperson, and Ms Magda González Arroyo, IC representative. Relevant plant health topics from the region, included the migratory locust situation, status and alert system of Fusarium oxysporum f. sp. cubense Race 4 Tropical (Foc R4T), and the implementation of electronic certification (e-Phyto) were shared and discussed.
Four draft standards were presented for review and commented by the participants during the workshop. These include: Audit in the phytosanitary context (2015-014); Focused revision of ISPM 12 in relation to re-export (2015-011); Draft 2020 Amendments to ISPM 5 (Glossary on phytosanitary terms) (1994-001); and Commodity-based standards for phytosanitary measures (2019-008). Discussions on the draft CPM Recommendation: Safe provision of food and other aid to prevent the introduction of plant pests during an emergency situation (2018-026) were deferred as there no substantive comments were provided by countries in the region.
The IPPC Secretariat acknowledges CAN for kindly translating the presentations into Spanish and all the presenters who also kindly provided translations. The IPPC Secretariat would also like to thank all participants for the active engagement and all presenters that made this workshop another success case for the region.
The agenda of the 2020 IPPC Regional Workshop for Latin America is available here (Spanish version).
The report of the 2020 IPPC Regional Workshop for Latin America will be published soon at the following link: https://www.ippc.int/en/core-activities/capacity-development/regional-ippc-workshops/
Presentations from the 2020 IPPC Regional Workshop are available at the following link: https://www.ippc.int/en/core-activities/capacity-development/regional-ippc-workshops/2020-ippc-regional-workshop/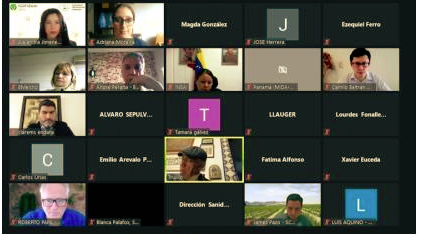 @FAO. 2020 IPPC Regional Workshop for Latin America (Day 1).
.....