Posted on Mon, 01 Jul 2019, 10:56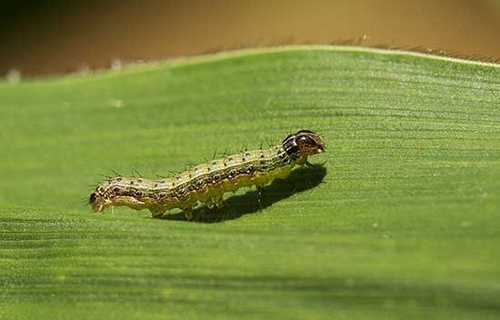 Originally native to the Americas, since 2016 the Fall Armyworm, a destructive pest, has rapidly spread into Africa, the Near East and Asia. ©FAO/Lekha Edirisinghe
28 June 2019 - Each year an estimated 10 to16 percent of global harvests are lost to plant pests and diseases, at an estimated cost of over USD 220 billion. Pests, pathogens and weeds cause the loss of more than 40 percent of the world's food supply. A global surveillance system for monitoring and improving response to crop diseases and pests could help prevent some of these losses.
"Science" journal has just published an important article on this topic called "A global surveillance system for crop diseases – global preparedness minimizes the risk to food supplies"
The article suggests that to improve response to the spread of unexpected crop diseases, a Global Surveillance System (GSS) should be created. The system would adapt established biosecurity practices and networking facilities and extend their use in low-income countries. This would allow these countries to quickly respond to emerging disease outbreaks and stabilize food supplies.
The article recognizes the International Plant Protection Convention (IPPC)'s vital role in providing a platform where countries can collaborate to improve awareness of threats to agriculture from regulated pests.
It also reflects key objectives of the IPPC 2020-2030 strategic framework related to emerging pests and emergency response; and developmental goals such as Enabling use of third parties to perform inspections; Strengthening Pest Outbreak Response Systems; as well as establishing a Global Pest Alert System and a Diagnostic Laboratory Network.
The "Science" article affirms that the research community is interested in collaborating and providing support to meet plant health challenges.
Citation: A global surveillance system for crop diseases*. M. Carvajal-Yepes, K. Cardwell, A. Nelson, K. A. Garrett, B. Giovani, D. G. O. Saunders, S. Kamoun, J. P. Legg, V. Verdier, J. Lessel, R. A. Neher, R. Day, P. Pardey, M. L. Gullino, A. R. Records, B. Bextine, J. E. Leach, S. Staiger and J. Tohme. Science. 364 (6447), 1237-1239. 2019.
*Ms Adriana G. Moreira, Standards Officer of the IPPC Secretariat contributed to the review of this article.
Share on Facebook