© FAO/Alessandra Benedetti
Rome, 21 February 2022. The causal agent responsible for the citrus greening or Huanglongbing (HLB), one of the most destructive citrus diseases, has a new adopted international diagnostic protocol. Caused by the bacteria Candidatus Liberibacter, HLB is one of the greatest threats to the citrus industry worldwide, mainly affecting citrus and other plants in the Rutaceae family. The disease is widespread in Asia, Africa and the Americas, transmitted by two different insect vectors: the African citrus psyllid (Trioza erytreae) in Africa, and the Asian citrus psyllid (Diaphorina citri) in Asia and the Americas.
To protect citrus plants from this devastating disease and facilitating their safe trade worldwide, the Standards Committee (SC) has adopted a new diagnostic protocol on behalf of the Commission on Phytosanitary Measures (CPM) after a 45-day notification period. The newly adopted Diagnostic Protocol 31 is added as an Annex to the International Standard for Phytosanitary Measure on diagnostic protocols for regulated pests (ISPM 27) and focuses on the three main species of Candidatus Liberibacter: 'Candidatus Liberibacter asiaticus', 'Candidatus Liberibacter africanus' and 'Candidatus Liberibacter americanus'. It provides guidelines on detection and identification, ranging from biological indexing to molecular tests.
Fruits affected by the HLB disease have a bitter and salty taste, and are usually smaller than the healthy ones. They often fail to develop normal fruit color, and can fall prematurely. Leaf yellowing is the first symptom of the disease, followed by mottling and chlorosis in one shoot or sector of the tree. Leaves on weak terminal twigs become small, upright and show a variety of chlorotic patterns.
The development of the diagnostic protocol on Candidatus Liberibacter spp. on Citrus spp. has been on the work programme of the Technical Panel on Diagnostic Protocols for many years. Since 2004, it has gone through several preparation stages, including expert consultations, consultation periods, technical panel's reviews and finally the adoption of the Standards Committee on behalf of the CPM.
This complex and long process ensures that the adopted Diagnostic Protocols reflect international best practices and that the guidance they provide is applicable to phytosanitary systems globally. Good diagnostics rely on several factors, including the availability of human and financial resources. Yet, having support from internationally accepted protocols is also crucial, especially for those countries that do not have the resources to develop protocols of their own. As outlined in the CPM Recommendation 7, accurate and rapid pest diagnosis underpins phytosanitary certification, import inspections, surveillance and the application of appropriate phytosanitary treatments.
The Diagnostic Protocol 31 will be available soon at the International Standards for Phytosanitary Measures page.
Learn more:
Technical Panel on Diagnostic Protocols
International Standards for Phytosanitary Measures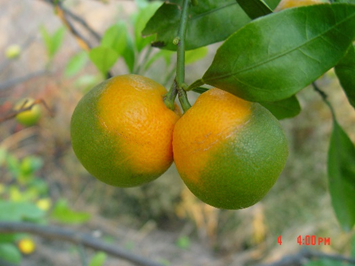 Photo. Ripening colour inversion symptom observed on Citrus sinensis (orange) fruit. Photo courtesy of National Agro-tech Extension and Service Centre Ministry of Agriculture and Rural Affairs, P.R. China.