Posted on Fri, 23 Nov 2018, 15:13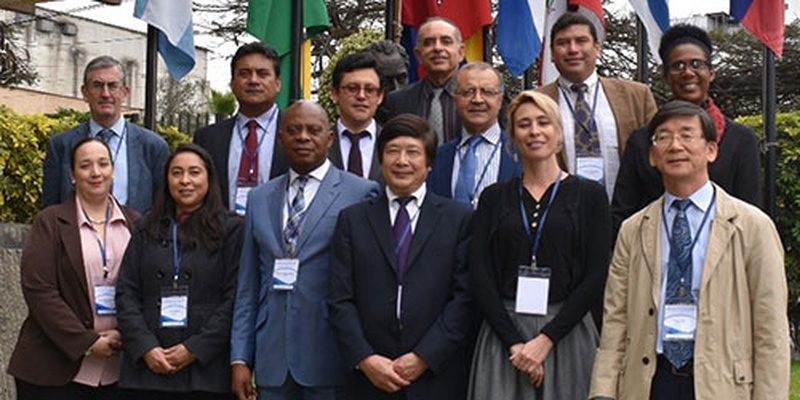 Participants at the 30th technical consultation of Regional Plant Protection Organizations at the Headquarters of the Comunidad Andina (CAN), November 2018 © CAN
2 November 2018 - Representatives from the world s Regional Plant Protection Organizations (RPPOs) recently met in Lima, Peru, to exchange information and find ways to better coordinate their activities. During the 30th annual technical consultation, which took place from 29 October to 2 November 2018 at the Headquarters of the Comunidad Andina, 13 participants from ten RPPOs, the IPPC Secretariat, the Inter-American Institute for Cooperation on Agriculture (IICA) and the International Potato Center (CIP) reviewed joint activities, identified areas of collaboration and established a common work plan.
Establishing criteria to define emerging pests was a high priority area of work. In accordance with recommendations from the CPM Bureau, these criteria included that the pest had:
made a continental jump;

a wide host range and that hosts were widely distributed;

a large potential for damage and economic loss across continents;

shown evidence of a shift in the risk;

an impact on the natural environment as well as on production; and

the ability to destroy crops and eliminate entire production areas.
The Organismo Internacional Regional de Sanidad Agropecuaria (OIRSA) then briefed participants on their own emergency activities.
Participants worked closely to draft Terms of Reference and Rules of Procedure for Technical Consultation (TC) among Regional Plant protection Organizations. They discussed the implementation of ePhyto; as well as the coordination of IPPC regional workshops and the International Year of Plant Health.
A visit to the International Potato Centre helped participants learn more about using New Genes Sequencing (NGS) to detect pests. This new technology is the object of a Commission on Phytosanitary Measures (CPM) recommendation that is currently being drafted.