Rome, 13 September 2021. Fall Armyworm has already affected more than seventy countries worldwide and is now classified as a priority pest in many regions of the world. According to FAO, up to 17.7 million tonnes of maize could be lost annually if Fall Armyworm is not properly prevented and managed, enough to feed tens of millions of people. Due to its capacity to fly up to 100 km per day and its high reproductive rate, this transboundary pest can spread rapidly across borders, also helped by international trade and travel. Once introduced and established in a new territory, Fall Armyworm is impossible to eradicate. That is why preventing its introduction and further spread is critical to limit damages on food security and agriculture.
The Secretariat of the International Plant Protection Convention (IPPC) has developed Prevention, preparedness and response guidelines to stop Fall Armyworm's spread to new areas. These guidelines are directed at the national plant protection organizations of countries where Fall Armyworm is regulated as a quarantine pest. Developed under the framework of the FAO Global Action for Fall Armyworm control in consultation with Europe, the Near East and North Africa, and the Pacific regions, the IPPC guidelines for Spodoptera frugiperda identify globally harmonized measures and actions countries can take to stop Fall Armyworm from spreading to their territories.
The guidelines explain in detail how countries can develop their prevention, preparedness and response plans for Fall Armyworm and be ready if the pest is detected in their territory. Other measures plant protection organizations can take include pest risk and pathways analysis, inspection and diagnostic, surveillance, pest risk communication and information sharing with different stakeholders. A webinar series dedicated to the prevention of Fall Armyworm will be also organized by the IPPC Secretariat to train 21 target countries in the Near East, Southern Europe and South-West Pacific. The Technical Working Group on Quarantine and Phytosanitary Measures will coordinate technical activities to help plant protection organizations be prepared to tackle the pest, slow down its spread and take suitable actions on a timely manner.
The IPPC guidelines for Spodoptera frugiperda are currently available in English and will soon be translated into French and Arabic.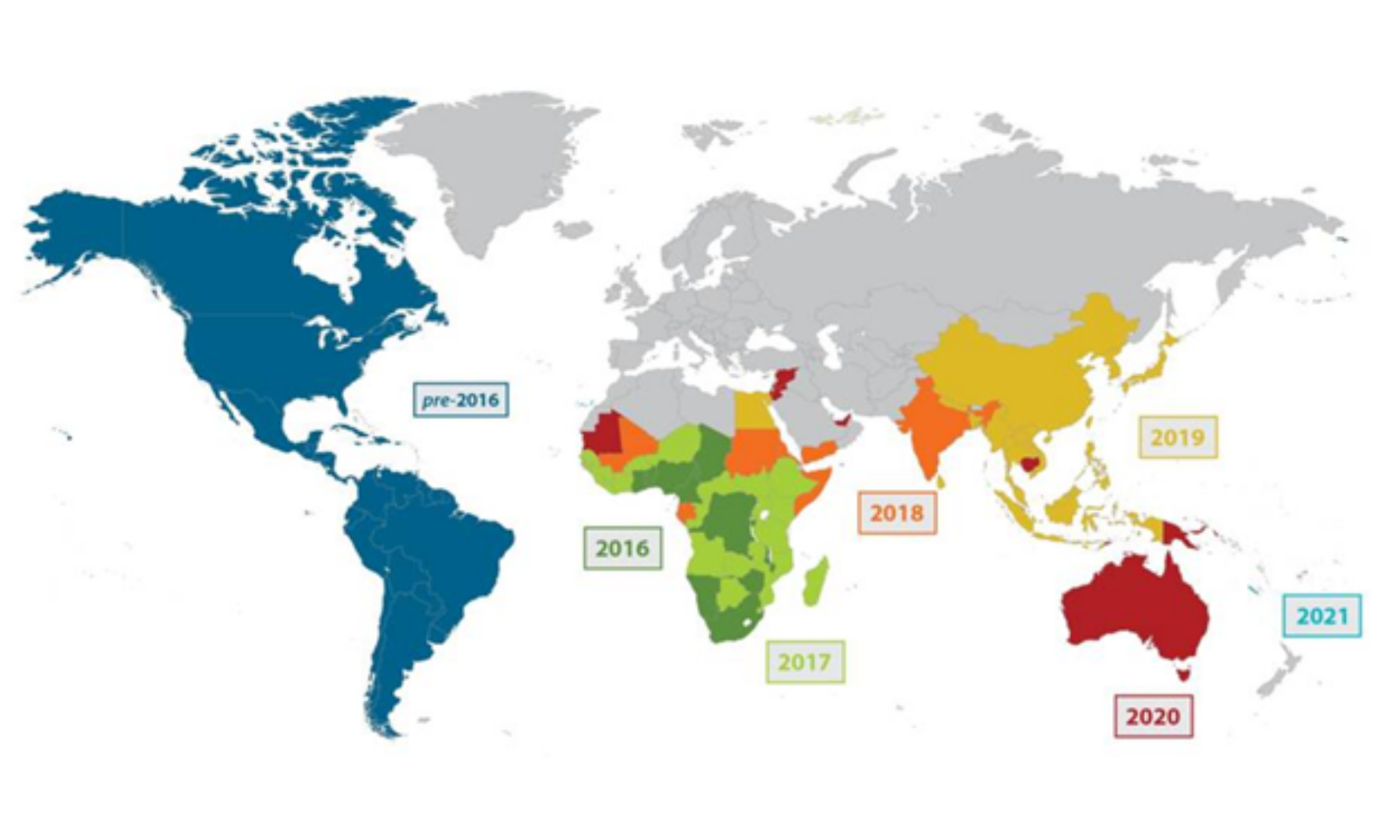 ©FAO. Map of the worldwide spread of Fall Armyworm since 2016 (as of May 2021).