Rome, 19 April 2021. By conducting Pest Risk Analysis (PRA), countries can identify phytosanitary risks associated with a specific pest and determine the need for its regulation through the implementation of International Standards for Phytosanitary Measures (ISPMs). The Standards Committee (SC) had a 2-day meeting focused on the revision of the draft specification on the reorganization of PRA-related standards, such as ISPM 2 on Framework for pest risk analysis, ISPM 11 on Pest risk analysis for quarantine pests and a draft ISPM on Pest risk management for quarantine pests.
This draft specification aims at enhancing the implementation of pest risk analysis and responding to new PRA-related challenges, such as the need to provide appropriate requirements on pest risk management for quarantine pests and to integrate and harmonize multiple PRA standards into one single ISPM for consistency purposes. The meeting took place virtually from 13 to 14 April and brought together seventeen SC members to review and approve the draft specification on the reorganization of PRA standards for the first consultation, which will run from 1 July to 30 August 2021.
The SC also discussed other topics derived from the fifteenth session of the Commission on Phytosanitary Measures (CPM-15) outcomes. Considering the CPM-15 decision of establishing a new focus group on Implementation Plans for the IPPC Strategic Framework 2020–2030, the SC appointed their representatives for the focus group as well as the SC champion for the Framework for Standards and Implementation. Among other important agenda items, the SC confirmed the election of the Standards Committee Working Group members, selected their representatives for the Task Force on Topics and the IPPC 2021 Regional Workshops, and reviewed the calendar of SC virtual meetings and events scheduled in 2021.
The SC will convene again in May 2021 to revise and approve selected draft ISPMs for the consultation period, including requirements for the establishment of pest free areas and the use of irradiation as a phytosanitary measure, guidelines for a phytosanitary import regulatory system, and glossary of phytosanitary terms.
The report of the SC April 2021 virtual meeting will be posted on the IPP at the following link: https://www.ippc.int/en/core-activities/standards-setting/standards-committee/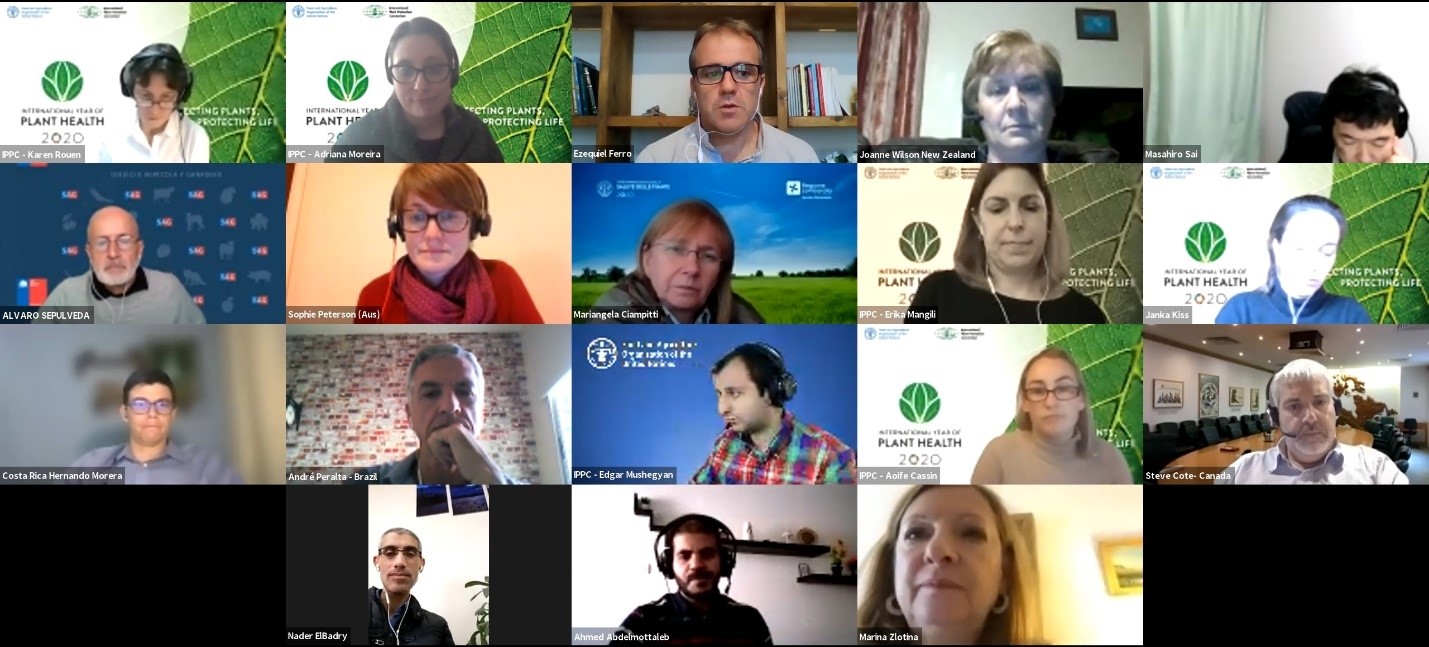 ©FAO. IPPC Standards Committee (SC) members and the IPPC Secretariat