Members of the Expert Working Group on (ISPM) 26 - Establishment of pest free areas for fruit flies (Tephritidae)
Rome, 14 July 2023. An Expert Working Group (EWG) of the International Plant Protection Convention (IPPC) is proposing important revisions to the International Standard for Phytosanitary Measures (ISPM) 26 (Establishment of pest free areas for fruit flies (Tephritidae)). ISPM 26 aims to provide a framework for countries to apply harmonized phytosanitary measures to establish and maintain pest free areas (PFA) for fruit flies that significantly affect agriculture and national economies.
The EWG held a meeting from 10-14 July 2023 in Wellington, New Zealand, hosted by New Zealand's Ministry for Primary Industries and officially opened by Peter Thomson, the Director of Animal and Plant Health at the Ministry.
The meeting was an opportunity for the EWG to fulfill its tasks as prescribed in Specification 75, which also set out the purpose, justification and scope for the revision. A specification is the first stage in the process of preparing text for a new standard and so this revision is expected to align the current ISPM 26 with the recently revised standards ISPM 8 and 4.
Reducing the devastation from fruit flies
Fruit flies belonging to the Tephritidae family can be found in many regions in the world and can significantly affect economic growth, reduce agricultural production, hasten food insecurity and hinder international trade by reducing the marketability of infested fruit. For instance, the United States Department of Agriculture reports that the market value of invasive fruit-fly host commodities was about USD 11.7 billion 2022.
In Australia, the country is taking strides to manage Queensland fruit fly (Bactrocera tryoniI 'Qfly') and Mediterranean fruit fly (Ceratitis capitata 'Medfly'), which are considered the world's worst horticultural pests. According to the Australian Government Department of Agriculture, Fisheries and Forestry, fruit flies cost the country hundreds of millions of dollars in control measures and lost international market access every year.
In a world where 735 million people suffer from hunger, with 122 million more people pushed into hunger since 2019, preventing the spread of pests like fruit flies is critical to maintain safe trade and this requires multilateral cooperation.
This revision will therefore align ISPM 26, adopted in 2006, with ISPM 4 (Requirements for the establishment of pest free areas) and ISPM 8 (Determination of pest status in an area) to reduce ambiguity across the standards and make it applicable to countries with endemic populations of fruit flies and those that are free of fruit flies, based on the pest status categories in ISPM 8.
The revision will provide appropriate criteria for determining whether a fruit fly incursion constitutes an accidental introduction or is a sign of the presence of an established population. It will provide a better description of the criteria for suspension, reinstatement and revocation of PFA status and corrective actions – applicable to different geographical areas.
As part of next steps, the IPPC Standards Committee will review the draft revision of ISPM 26 and possibly approve it for consultation amongst contracting parties "so that we have a revised standard that prescribes requirements applicable to all countries and the specificities of all fruit flies," said Joanne Willson, Steward of the ISPM and member of the IPPC Standards Committee.
The detailed meeting report will be available in due course at the IPPC website: https://www.ippc.int/en/core-activities/standards-setting/expert-drafting-groups/expert-working-groups/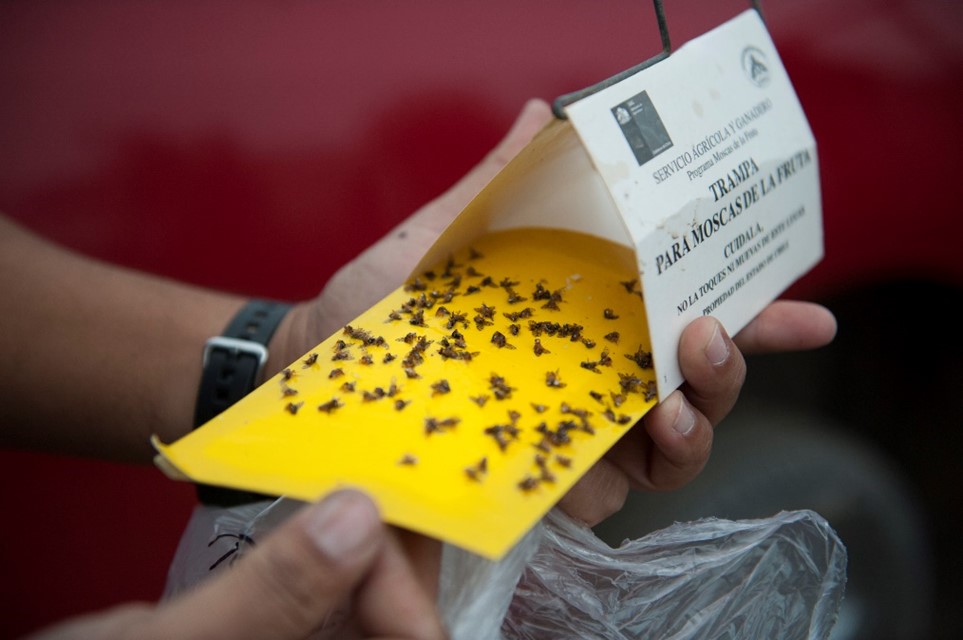 ©FAO/Vladimir Rodas
Watch video: Fruit fly standards can help gain market access