Posted on Fri, 02 Jun 2017, 09:28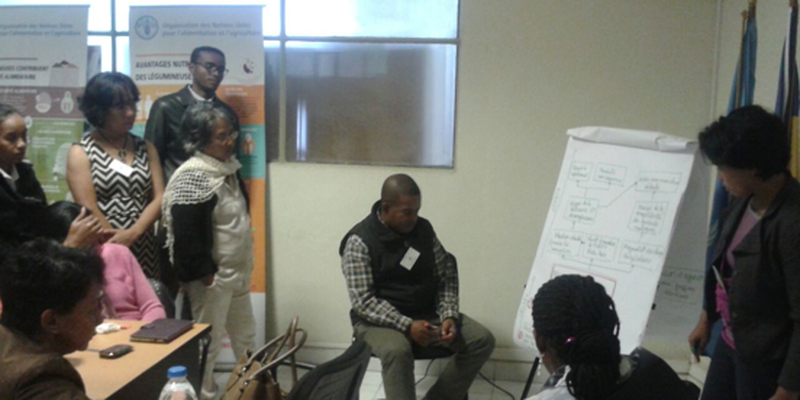 IPPC 2017 - PCE Facilitator Alphonsine Louhouari and workshop participants convene in Antanarivo Madagscar
The second multi-stakeholder workshop for the PCE in Madagscar was conducted from 30 April to 6 May 2017, as part of the IPPC s intervention in the project Africa Solidarity Trust Fund (ASTF): Strengthening controls of food safety threats, plant and animal pests and diseases for agricultural productivity and trade in Southern Africa. STDF401 trained PCE Facilitator, Alphonsine Louhouari facilitated this second PCE workshop with the support of IPPC Capacity Development Officer Sarah Brunel.
The Secretary General of the Ministry of Agriculture Monsieur Pierrot Serge Randrianaritiana opened the workshop and expressed his support for the project and its objectives. Workshop participants were trained in problem tree analysis, SWOT Analysis, and logical frameworks. PCE module outcomes were reviewed and brainstorming sessions were conducted to address identified challenges.
Workshop participants presented their ideas on the vision and mission of the NPPO in Madagascar, and concluded the workshop reviewing and discussing revised phytosanitary legislation together with the national legislative consultant. The PCE facilitation team facilitated each aspect of the workshop and wrapped up the second phase reiterating the state of the project, and the next steps with the FAO Representative in Madagascar Patrice Talla Takoukam.
The 3rd validation phase of the PCE for Madagascar is planned for August 7 - August 11 2017.
To learn more about the IPPCs Phytosanitary Capacity Evaluation Tool click here.