Geneva, 14 July 2021. The World Trade Organization (WTO) held a two-day virtual Workshop on 'Risk Assessment, Risk Management and Risk Communication in relation to food safety, animal and plant health' on 12 and 13 July 2021, with over 1,000 registered participants. A broad and diverse set of speakers and panelists from international standard setting bodies, international organizations, the public sector, academia and the private sector delivered a varied set of presentations followed by lively discussions from the audience. The International Plant Protection Convention (IPPC) Secretariat and experts from the IPPC community shared their knowledge and experience in the field of plant health and pest risk assessment, management and communication.
The workshop started with an overview of relevant international standards and tools presented by speakers from Codex Alimentarius, World Organization for Animal Health (OIE), FAO and the Organization for Economic Cooperation and Development (OECD). A session on risk management followed where Mr Masahiro Sai, Head of the Yokohama Plant Protection Station's research division at the Ministry of Agriculture, Forestry and Fishery (MAFF) of Japan, discussed the importance of available International Standards for Phytosanitary Measures (ISPMs) in guiding contracting parties on pest risk management. Mr Sai is also the Standards Committee Steward of the proposed reorganization of the pest risk management standards. He emphasized that the ISPMs ensure transparency to harmonize phytosanitary measures by providing useful guidelines for pest risk management.
Developing more general guidance on pest risk management and drafting specific standards such as phytosanitary treatments and commodities is important for contracting parties, he stressed. Ms Joanne Wilson, also an IPPC SC member and Principal Adviser of the Animal and Plant Health Directorate, Biosecurity of the New Zealand Ministry for Primary Industries highlighted that setting sustainable pest risk management options for commodity standards, including systems approaches is one of the key results of the newly-adopted IPPC Strategic Framework 2020-2030. She acknowledged the workshop was a great opportunity to share the approach the IPPC Secretariat was taking to address specific pest risk management issues, such as e-commerce and highlighted initiatives to encourage country and industry participation in the standard setting process.
Representatives from Codex Alimentarius, the IPPC and OIE Secretariats, as well as from the FAO Food Systems and Food Safety Division and the independent agency "Food Standards Australia New Zealand" presented on the topic of risk communication. Ms Sarah Brunel, IPPC Secretariat Implementation Facilitation Deputy Lead, presented the IPPC Guide to Pest Risk Communication and highlighted some of the risk communication activities performed by the IPPC Secretariat. She also encouraged the three sister organizations (Codex Alimentarius, OiE and IPPC) to work on this topic jointly under the umbrella of the latest FAO Strategic Framework 2022-2030, as part of the One Health programme priority area. Ms Brunel engaged the audience during an informal side session sharing case studies and experiences. Mr Alan MacLeod, Pest Risk Analyst at the United Kingdom's Department for Environment, Food and Rural Affairs, and lead for the working group that drafted the IPPC Guide on risk communication, urged National Plant Protection Organizations to build pest risk analysis (PRA) capacity and work collaboratively to prevent the introduction and spread of plant pests thereby enabling countries to benefit from safer trade through the use of PRA.
Additional resources:
WTO catalogue of resources related to risk assessment (international standards, guidelines and recommendations, presentations, handbooks, guides, tools and links to previous events and online courses)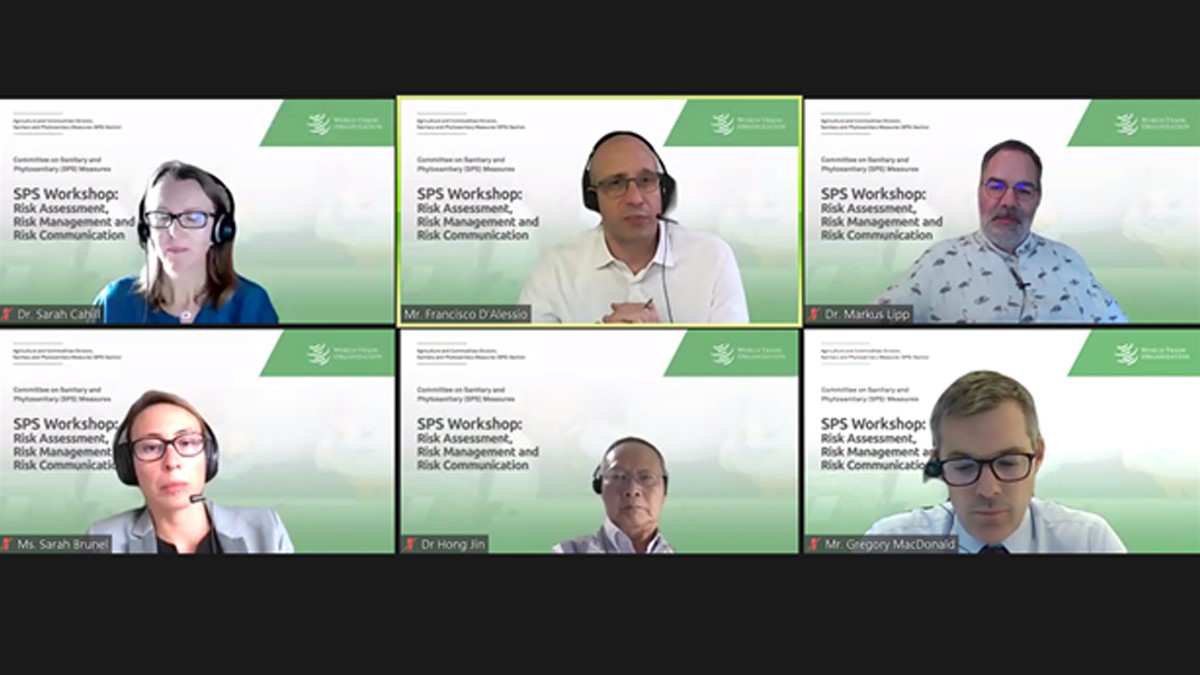 WTO Risk communication session, Workshop on "Risk Assessment, Risk Management and Risk Communication in relation to food safety, animal and plant health", 13th of July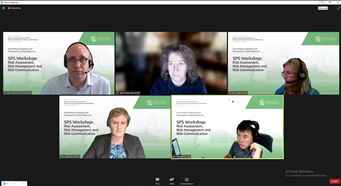 WTO Risk management session, Workshop on "Risk Assessment, Risk Management and Risk Communication in relation to food safety, animal and plant health", 12th of July
.....