Sri Lanka has recently started its IPPC Phytosanitary Capacity Evaluation PCE) process. © FAO
4 October 2019, Colombo - The name Lanka is derived from the Tamil word "ilanku" (இலங்கு), which means "to shine", thus making Lanka a name that means "that which shines". Indeed, the national plant protection organization (NPPO) of Sri Lanka wants to use the IPPC Phytosanitary Capacity Evaluation (PCE) to help improve and polish their phytosanitary system into a shiny gem.
From 30 September to 4 October 2019, NPPO staff and representatives from government ministries and industry gathered at the NPPO's headquarters in Katunayake for the country's first PCE.
The meeting was opened by Mr. W. A. Raveen Thushara WICKRAMARACHCHI, head of the NPPO. Participants were welcomed by Ms Champika HEWAGE who will lead the PCE process over the next few months. The following four modules of the PCE were completed during the meeting:
Module 2: National phytosanitary legislation

Module 7: Pest diagnostic capacity

Module 11: Pest risk analysis

Module 13: Export certification, re-export, transit
Additional modules will be completed in future meetings.
The PCE process allows different stakeholders to gain consensus on their responses to questions regarding their national phytosanitary system. A trained PCE facilitator endorsed by the IPPC Secretariat, in this case Mr Ringolds ARNITIS, facilitates the process. However, stakeholders do the real work.
Mr Lalaina RAVELOMANANTSOA from FAO's Legal Office assisted the group when reviewing their national phytosanitary legislation. At a later stage, the same group will work together to develop a national strategy and an action plan to address the identified weaknesses; and help Sri Lanka build a more robust phytosanitary system.
Other countries interested in conducting a PCE can submit a request to the IPPC Secretariat who will help them through the process. For more information on the PCE and on how to initiate one, please see: https://www.ippc.int/en/core-activities/capacity-development/phytosanitary-capacity-evaluation/.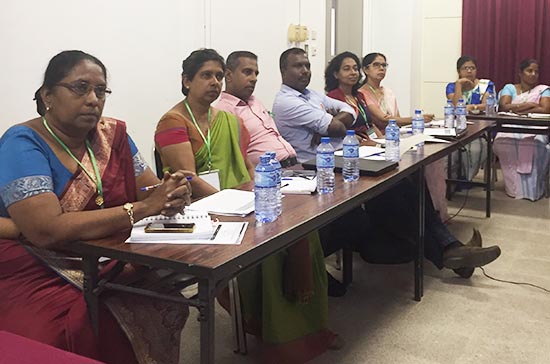 Ms Champika HEWAGE is coordinating the application of the PCE process in Sri Lanka. © FAO