Posted on Sat, 24 Sep 2016, 17:29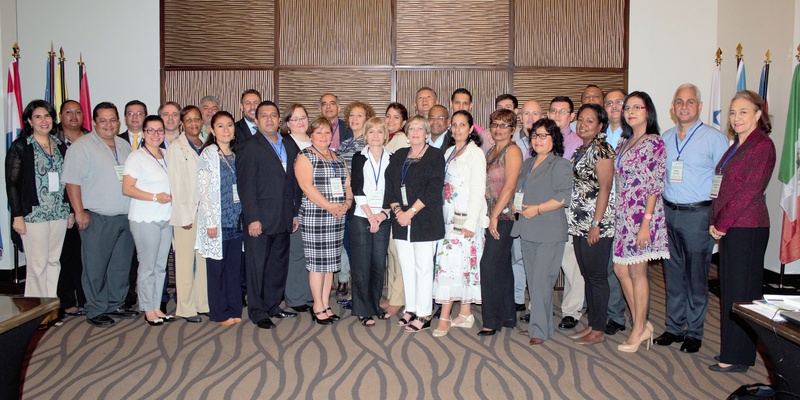 The 2016 IPPC Regional Workshop for Latin America was held from 23-26 August in Panama City, Panama. The Workshop was co-organized and financed by the IICA (Instituto Interamericano de Cooperación para la Agricultura), OIRSA (Organismo Internacional Regional de Sanidad Agropecuaria), COSAVE (Comite de Sanidad Vegetal del Cono Sur), and the NPPO of Panama (Servicio Nacional de Sanidad Agropecuaria de Panamá), together with the IPPC. A total of 32 participants from 19 national plant protection organizations (NPPOs) participated in the workshop. Representatives from 2 regional plant protection organizations and IICA staff also attended the workshop. Ms Stephanie Dubon facilitated the workshop on behalf of the IPPC s Secretariat.
The workshop was opened by the Regional Director of Plant Health for OIRSA, Mr Carlos Urias Morales, the Coordinating Secretary COSAVE, Mr Alvaro Sepulveda, IICA Representative in Panama Mr Gerardo Escudero, the FAO Officer Mr Raixa Llauger and Vice-Minister of Agricultural Development Mr Esteban Giron of Panama. Ms Arlet Vargas (Costa Rica) was elected as Chairperson, and a committee consisting of COSAVE, Mexico, Argentina and IICA was formed to serve as rapporteurs.
The participants reviewed and provided comments on three draft plant health standards, and received facilitated exercises on import verification, diagnostics tools, and surveillance. Besides the draft ISPMs (plant health standards), other items discussed included the adoption of the Framework for Standards, approval of new topics for standards, the revision of the Capacity Development Committee, and the debate on the rules and the creation of the Steering Committee for the declaration of 2020 as International Year of Plant Health.
As for the topics of interest proposed by the region discussed at the workshop, highlights were the following: 1) Reorganization of the Fruit Fly standards to be considered at CPM-12 (2017); 2) Framework for standards and implementation adopted by the CPM-11 (2016); 3) Advances in electronic certification system (ePhyto); and 4) Standards included in the workshops for comments, recognizing and appreciating that the new form of the workshops is more participatory.
These workshops are critical in improving the capacity of developing countries to participate actively in the development of international standards, enhancing their capacity to understand and operationalize IPPC standards, and for IPPC members to formulate productive comments on draft standards.
The report of the Workshop is available here.