Credit: European Space Agency
Rome, 2 November 2021 – A webinar on the use of remote sensing technologies to support plant health surveillance activities was co-organized virtually by the Secretariat of the International Plant Protection Convention, the European and Mediterranean Plant Protection Organization (EPPO), Euphresco, the European Space Agency (ESA), and Eurisy. The webinar saw the participation of over three hundred attendees from approximately one hundred countries.
As part of International Year for Plant Heath webinar series "Paving the way to the first ever International Plant Health Conference", the tailor-made remote sensing session aimed to present concrete operational cases of the use of remote sensing technologies in support of plant health. Six international plant health experts presented several examples to demonstrate the benefits of remote sensing to support surveillance activities, and discussed the barriers to its full exploitation by National Plant Protection Organizations, as well as possible ways to overcome these challenges.

Satellite technologies have the potential to guide and instruct on ground surveillance activities and other phytosanitary measures that National Plant Protection Organisations can take to prevent pests from spreading. Remote sensing allows the development of precise (in time and space) maps of the Earth's surface, including areas that are usually difficult to reach. Such a technology is also able to identify and map plants and trees, and detect signs of stress in plants before they become visible to the naked eye. That is why remote sensing technologies can support early detection of plant pests through their symptoms, and act as a preventive measure to contain or eradicate pests before they establish themselves in a territory.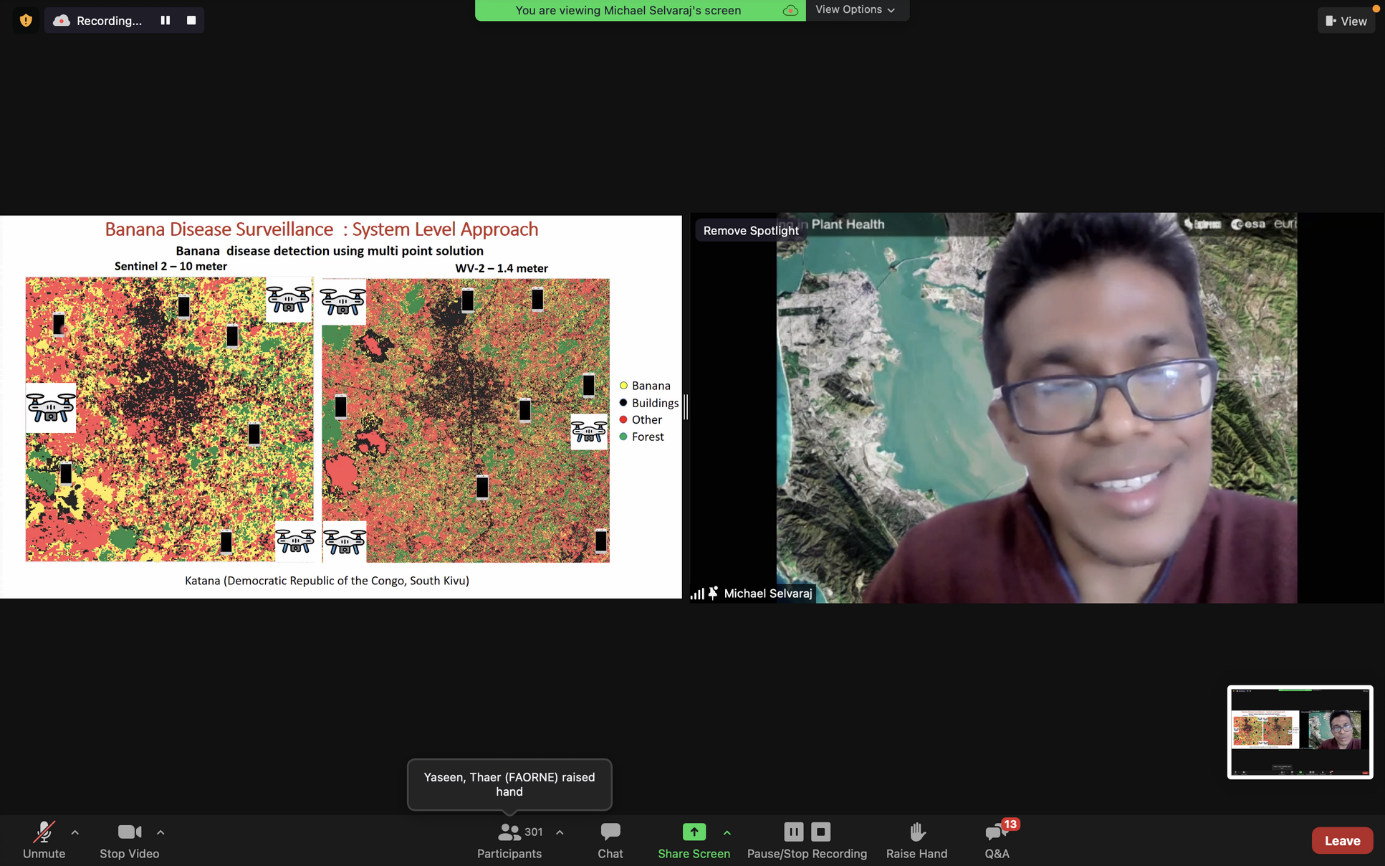 During the webinar, the six experts in remote sensing applications and plant health presented examples and success stories on the use of remote sensing in agriculture, such as the application of hyperspectral and thermal imagery. Other case studies on the use of this technology highlighted its diverse potentials across different crops and plant species, including bananas, fruit orchards, strawberries, sugar beets and citrus trees.
The IPPC Secretariat, EPPO, Euphresco, ESA and Eurisy are going to make publicly available the numerous interactions and outcomes of the discussions with the attendees during the webinar. A factsheet and a short video are also going to be produced thanks to a contribution from ESA. All the information and resources will be accessible from the IPPC website.