Rome, 1 October 2020. The Technical Committee of the Global Action for Fall Armyworm Control has discussed the need of preparing new global guidelines on FAW prevention as a strategic asset of the Global Action. These guidelines are aimed at helping countries prevent FAW introduction and better respond to the increasing spread of FAW to new areas. With more than 60 participants connected remotely, the third meeting of the FAW Technical Committee allowed participants to identify new strategic directions and solutions against FAW.
According to Jingyuan Xia, Director of the FAO Plant Protection and Production (NSP) Division, FAW outbreaks have registered an unprecedented and alarming pick in 2020, causing the destruction of over 80 million tons of maize worth USD 18 billion per year in Africa, Asia and Near East. Implementing the Global Action will help reduce crop yield losses, protect the environment, preserve natural enemies, and strengthen capacity at the farmer and institutional levels. Finally, it will prevent further spread of FAW to new areas.
The implementation of International Standards for Phytosanitary Measures plays a crucial role within the FAW Global Action as it has been designated as one of the main strategic assets to help uninvaded countries reduce the risk of FAW further spread. As presented by Ms Sarah Brunel, IPPC Implementation and Facilitation Unit Deputy Lead, the IPPC Secretariat action on prevention will focus on 21 target countries located in South-Europe, Near East and North Africa and South-West Pacific.
With the active contribution of the European and Mediterranean Plant Protection Organization (EPPO), Near East and North Africa Plant Protection Organization (NEPPO) and Pacific Plant Protection Organization (PPPO) this global guidance on FAW prevention will be prepared and published by the end of the year. Relevant workshops will follow between 2021 and 2022 to validate and implement the guidelines at the regional and national levels.
The report of the third Technical Committee meeting will be available at the following link: http://www.fao.org/fall-armyworm/global-action/technical-oversight/en/.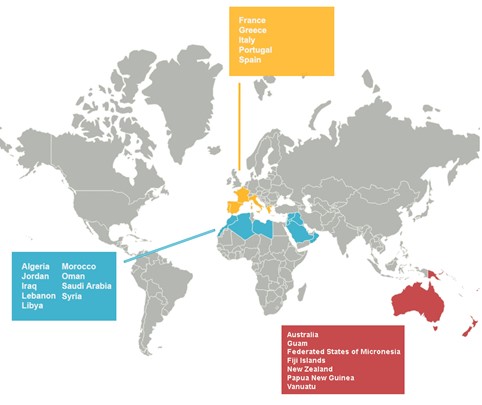 Map of IPPC target countries for FAW prevention @IPPC Secretariat