Posted on Thu, 30 Jan 2020, 17:32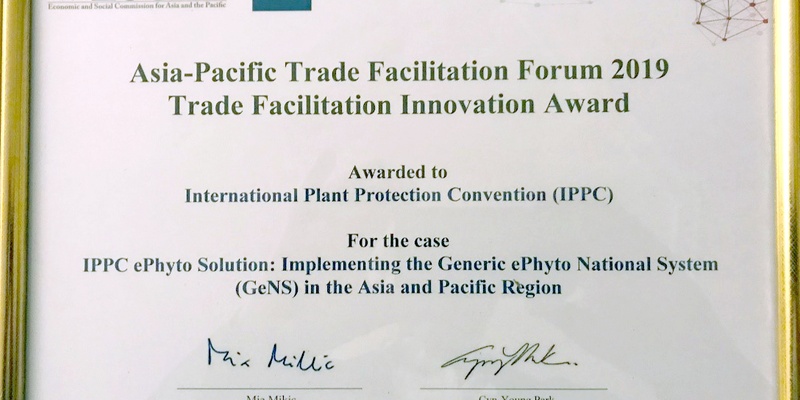 Rome, 24 January 2020 - During the IPPC Secretariat's annual meeting on January 24, the ePhyto team provided a quick review of the great success the IPPC ePhyto Solution had during 2019, as well as some of the opportunities ahead for 2020. Winning the Trade Facilitation Innovation Award at the 2019 Asia-Pacific Trade Facilitation Forum was probably the key highlight for the IPPC ePhyto Solution in 2020, showing how the Generic ePhyto National System (GeNS) brought prosperity to the Asia Pacific region. The Forum is a joint effort by the United Nations Economic and Social Committee for Asia and the Pacific (UN ESCAP) and the Asian Development Bank, meeting every two years to promote trade facilitation for national and regional development.
In addition, three ePhyto regional workshops were organized in different regions to promote the importance and the benefits of exchanging electronic phytosanitary certificates. The first workshop was held in the Caribbean and facilitated by the USA; the second in the Southwest Pacific region, facilitated by Australia and New Zealand; and the third one in the Sub-Saharan African region facilitated by the USA, the IPPC Secretariat and the Inter-African Phytosanitary Council. Altogether, nearly 55 countries were given hands-on introductions to the Solution during the year. The timing was excellent as the entire IPPC ePhyto Solution became fully operational in mid-July and many of those countries attending the workshops quickly registered to the system.
Thanks to the UN ESCAP innovation prize and the regional workshops, ePhyto started gaining momentum and recognition at a global level, on boarding a growing number of countries and registrations. By year-end, nearly 80 countries had registered to the system while 12 countries were already using the system on a routine basis.
Looking to 2020, numerous additional countries intend to use the system in routine, including all the EU-Member States. A Middle East North Africa regional ePhyto workshop will be taking place in April, critical national work will be taking place in Oman and Zambia, and there are possibilities for an additional ePhyto workshop for the Balkans and/or Eastern Europe. New opportunities for partnerships, especially with other standard setting organizations, as well as further exploration as to how best to integrate the ePhyto solutions with single window systems and blockchain approaches. Against this background of activity, the ePhyto Steering Group will continue to work with its IT partner, the United Nations International Computing Centre, to enhance the system and its performances, and finally improve the quality of the service to all the ePhyto community.