Posted on Tue, 11 Feb 2020, 15:35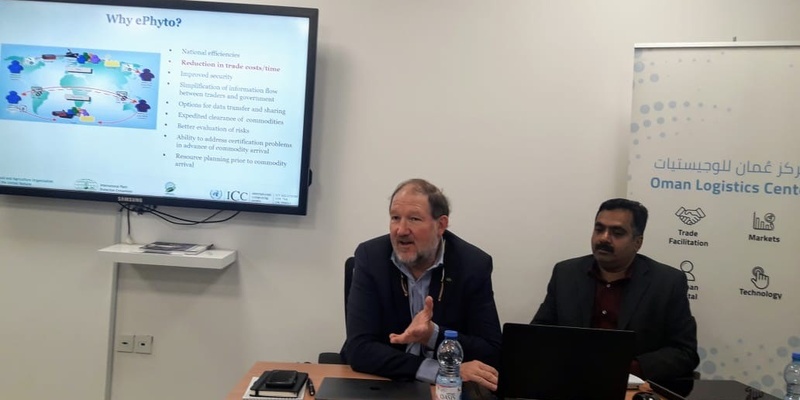 Mr Craig Fedchock, IPPC Senior Advisor, giving a presentation on the ePhyto Solution @FAO
Muscat, 5 February 2020 - From February 3 to 5, the IPPC ePhyto Project Manager, Mr Craig Fedchock, and the UN International Computing Centre (ICC) Head of the Application Delivery Unit, Mr Venkat Venkateswaran, met with senior officials from the Omani Ministry of Agriculture to initiate planning for future work with the Omani National Plant Protection Organization (NPPO). Oman's Undersecretary of the Ministry for Agriculture, Mr Ahmed Al-Bakri, the Director of Plant Health Quarantine Department, Mr Walid Al Mamari, and the head of the FAO Oman Office, Ms Nora Ourabah Haddad, were present at the 3-day meeting along with eminent plant quarantine inspectors, plant product importers, and representatives from the Omani Logistics Center Asyad.
After two and a half days of training and intensive exchanges of ideas, participants collectively agreed that the opportunities for future efforts in Oman are significant and should include an Oman-centered regional and eventually, global, effort to provide training and education in electronic certification and the IPPC ePhyto Solution. There was unanimity among meeting participants that understanding and gathering the information required for the phytosanitary certificate is essential to ensuring plant health. Therefore, they proposed to found a national Center of Excellence to provide education on electronic certification and building plant health systems in in Oman.
The Omani NPPO has begun using the ePhyto system in the User Acceptance environment through the Generic ePhyto National System (GeNS), and intends eventually to access through the Omani national system. Expectations are for the Omani NPPO to be fully engaged in the IPPC ePhyto Solution within 6-12 months.
For more information, visit: https://www.ephytoexchange.org/landing/index.html