Posted on Wed, 24 Aug 2016, 17:26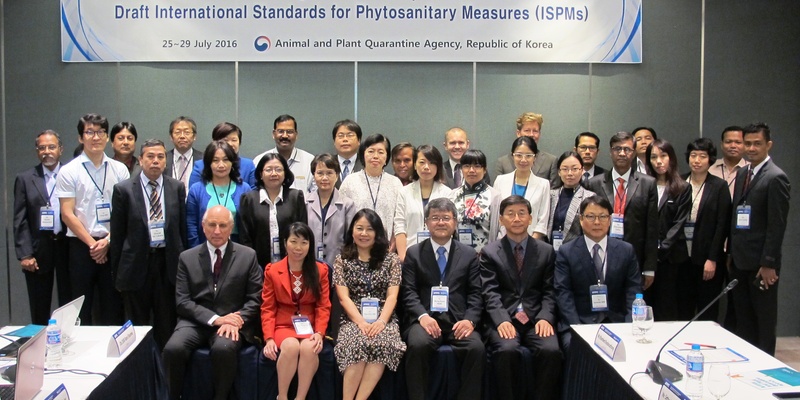 The IPPC/APPPC Regional Workshop for Asia on the review of draft ISPMs was held from 25-29 July 2016, at Suwon-si, Gyeonggi-do, Republic of Korea. The workshop was organized by Regional Plant Protection Organization for Asia Pacific (APPPC) and the Government of Republic of Korea, with support of the International Plant Protection Convention (IPPC). The workshop were attended by 36 experts from 18 Asia Pacific countries. The opening remarks was given by Dr Bong-Kyun Park, Commissioner of the Animal and Plant Quarantine Agency.
The first agenda of the workshop was to updated participants on the CPM activities achievement presented by Dr Kyu Ock Yim, the previous CPM Chairperson and the current Bureau member of the Asia, with three draft International Standards for Phytosanitary Measures discussed. The participants made amendments to the Glossary of phytosanitary terms, the National surveillance systems and the Requirements for the use of temperature treatments as a phytosanitary measure. A considerable number of comments were provided by participants and all comments were made on the OCS.
Participants had actively deliberated on wide range of issues connected to other draft ISPMs, such as International movement of wood; arrangements for the verification of compliance of consignments by the importing country in the exporting country; international movement of vehicles, machinery and equipment; international movement of seed; and international movement of growing media in association with plants for planting.
The special agenda item was included to discuss sea containers. Other IPPC issues discussed included: an update on ePhyto project, Implementation Review and Support System, the International Year of Plant Health, the surveillance programme, delivering diagnostic services, development on the guidelines for the management of plant and plant products carried by passengers and through post from abroad.
The highlight of the workshop was a presentation on emerging issues on plant health in the region. This last topic brought up many interesting SPS issues related to brown plant hopper, Xylella and coffee rust. Dr. Yongfan Piao, Executive Secretary of APPPC presented a summary of country feedbacks on the questionnaires survey on main issues of plant health, which was followed by plenary discussions. The report of the workshop is available at www.apppc.org and the IPP.