Rome, 11 June 2020 – The IPPC Secretariat organized the second virtual briefing to continuously advance its work programme during the Covid-19 pandemic. The meeting was chaired by Mr Jingyuan Xia, IPPC Secretary, and attended by 27 staff members. The main activities and results have been updated from Mr Avetik Nersisyan, Ms Sarah Brunel, Mr Arop Deng, Mr Craig Fedchock, Mr Mirko Montuori and Mr Marko Benovic. All staff members interacted and expressed ideas on how to improve teamwork and teleworking during the Covid-19 pandemic. IPPC Secretary Xia presented conclusion remarks by highlighting ten key achievements sine last meeting.
Mitigation of the COVID-19 impacts. A statement was issued jointly by CPM Bureau and IPPC Secretariat to guide NPPOs to mitigate the Covid-19 impacts. An IPPC dedicated subpage on the Covid-19 related information was created for sharing relevant information among IPPC community.

Promotion of IYPH. IYPH stakeholders agreed to postpone some important IYPH activities to 2021, such as CPM-15 and its ministerial segment, and the International Plant Health Conference in Helsinki of Finland. IPPC Secretary welcomed Zambia's offer to champion the establishment of an International Day of Plant Health (IDPH).

Governance activities. Two CPM Bureau virtual meetings took place to move forward the IPPC's work. Standard Setting Committee (SC) worked on the standards-related issues through Online Comments System (OCS) and e-Decision, while the Implementation and Capacity Development Committee (IC) organized two virtual meetings to discuss its implementation plan.

Standard setting. Three draft standards were proceeded for the 1st consultation, such as the amendments to ISPM 5, the revision of ISPM 12 in relation to re-export and the audits in the phytosanitary context. Two specifications were worked on including the annex to ISPM 38 (Seeds) and the annex to ISPM 37 (Fruit flies)

Standards implementation. The plan was made to develop technical guides and training materials during the Covid-19 pandemic, and the preparation for 2020 IPPC Regional Workshops was initialized. Implementation of FAO global action plan on fall armyworm (FAW) control in relation to the IPPC issues was processed in coordination with relevant RPPOs.

Extension of ePhyto solution. Over 90 countries registered the IPPC ePhyto solution while 42 started exchanging ePhytos. The IPPC ePhyto Solution received encouragement from FAO DDG, Ms Beth Bechdol, who attended the IPPC global virtual meeting for the ePhyto Steering Group (ESG) and Industry Advisory Group (IAG).

Communications and advocacy. The IPPC 2019 Annual Report was finalized for printing; the migration of the IPPC website to FAO domain was proceeded, and numbers of news were issued on IPPC virtual activities.

Network and partnership. The first virtual meeting for RPPOs was organized where it was agreed that such meetings will be held monthly. The IPPC Secretariat attended the first BLG virtual meeting and worked closely with CPM Bureau to add more IPPC's voices to the post-2020 global biodiversity framework.

Resource mobilization. The IPPC Secretary warmly welcomed the first contribution from the EU DG-SANTE to three IPPC projects on commodity and pathway standards, pest outbreak and alert systems, and ePhyto. He also expressed his highest appreciation to those CPs for their continuous contribution to the IPPC Multi-Donor Trust Fund (MDTF) even at the unprecedented global pandemic of the Covid-19, in particular to Canada, Ireland, Republic of Korea, and USA/NAPPOs.

Internal management. All Secretariat's staff have continuously improved cooperation and collaboration to increase their teamwork and team spirit during teleworking.
In conclusion, IPPC Secretary Xia encouraged all staff to continuously strengthen the teamwork and team spirit so as to improve efficiency of teleworking by following five important principles: a) respecting each other; b) understanding each other; c) supporting each other; d) compromising each other; and e) motivating each other.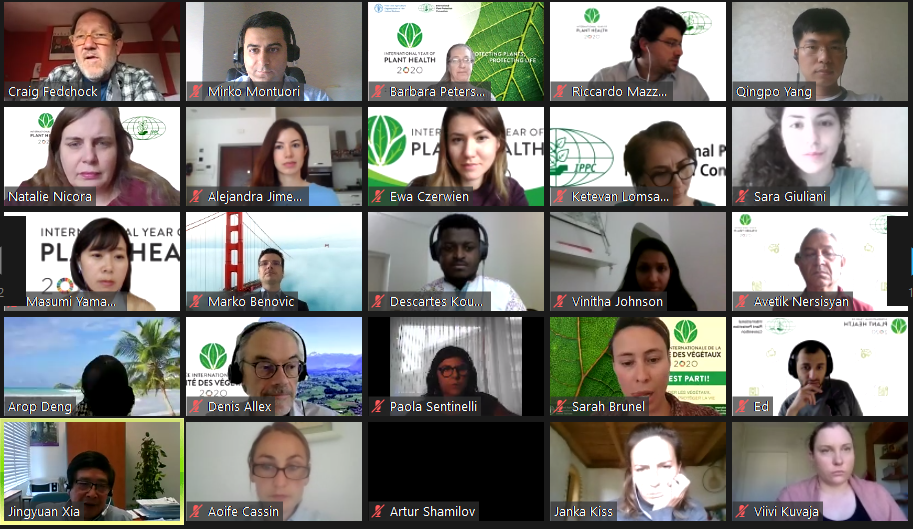 .....