Posted on Tue, 18 Jun 2019, 15:49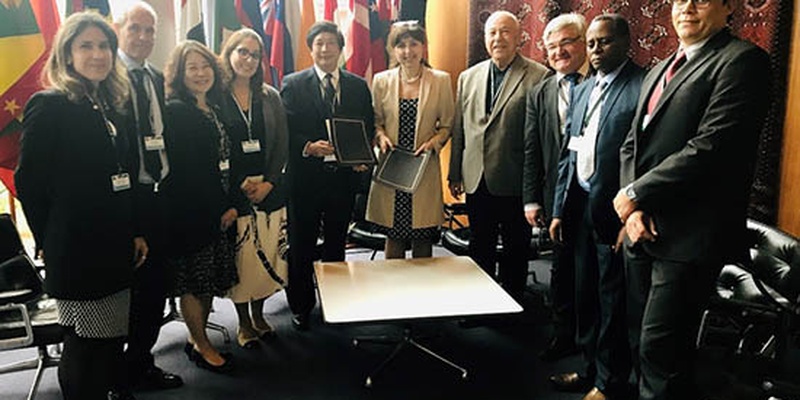 Dr Cristiana Pasca Palmer, Executive Secretary of the CBD, and Dr Jingyuan Xia, Secretary of the IPPC, signed the CBD-IPPC joint work plan for 2019-2020 at the Consultation Workshop of Biodiversity-Related Conventions on the Post-2020 Global Biodiversity Framework. IPPC and CBD delegates were also present. © FAO
10 June 2019, Bern - The International Plant Protection Convention (IPPC) and the Convention on Biological Diversity (CBD) share the common objective of protecting global biodiversity. With a long history of collaboration and recognizing the importance of ensuring coherence and mutual support in implementing both Conventions, a joint work plan for both Conventions for 2019-2020 was signed by the Executive Secretary of the CBD, Dr Cristiana Pasca Palmer, and the Secretary of the IPPC, Dr Jingyuan Xia at the Consultation Workshop of Biodiversity-Related Conventions on the Post-2020 Global Biodiversity Framework in Bern, Switzerland.
IPPC and CBD collaboration in 2017-2018 brings mutual benefits
The 2017-2018 IPPC-CB joint work plan showed the benefits of collaborating and led to concrete actions including: i) participating in each other s governing body meetings; ii) holding the Global Taxonomy Initiative training; iii) comparing terms used in the Cartagena Protocol on Biosafety, the Glossary of Phytosanitary Terms, and other relevant documents; vi) organizing joint expert meetings on e-commerce; and v) promoting partnerships and communication.
The IPPC Secretariat also cooperated with the CBD Secretariat for promoting the IPPC 2018 Annual Theme Plant Health and Environmental Protection. Several joint initiatives on this topic took place at the 2018 Commission on Phytosanitary Measures (CPM-13) including: i) a keynote speech on Plant Health and Environmental Protection delivered by the CBD Executive Secretary; ii) a special topics session on Plant Health and Environmental Protection which showed the links between plant health, environmental protection, climate change, and the impact of plant pests on biodiversity; and iii) a joint side session on Plant Health and Environmental Protection - Strengthening collaboration for Plant Health and achieving the Aichi Biodiversity Targets by 2020 at all levels.
Features of the IPPC-CBD joint work plan for 2019-2020
The IPPC-CBD joint work plan for 2019-2020 has nine major activities including exchanging information; raising awareness of each other s activities and actions; promoting the International Year of Plant Health (IYPH) 2020; supporting capacity development activities in member countries; and providing inputs into the development of the post-2020 global biodiversity framework.
The two Secretariats will review the progress made in implementing this joint work plan and prepare a revised plan, as appropriate, for the next biennium (2021-2022) in December 2020.