Authorization of entities to perform phytosanitary actions (October 2020)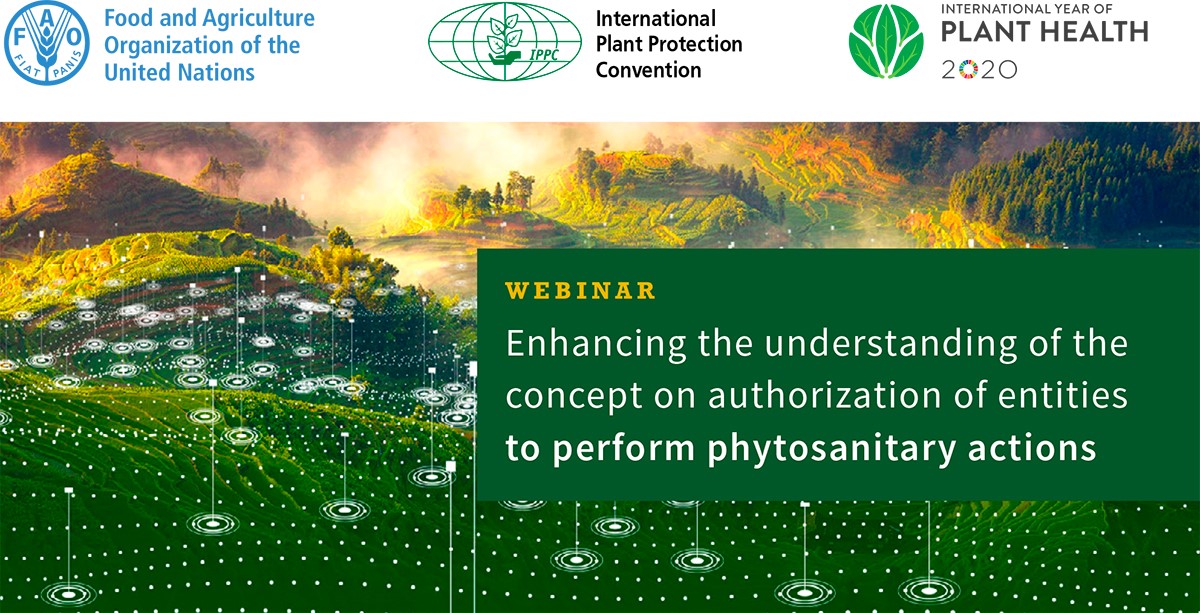 20 October 2020 12.00-14.00 (GMT+2 Rome time)
Thank you for participating in this webinar!
The latest version of the draft ISPM is available as the attachment of this CPM paper: https://www.ippc.int/en/publications/88149/
Background
Developing guidance on the use of third-party entities is one of the eight development agendas of the IPPC Strategic Framework 2020-2030 endorsed by the CPM-14 (2019). The draft standard on the "Requirements for NPPOs if authorizing entities to perform phytosanitary actions (2014-002)" is currently being developed under the oversight of the Standards Committee. It is providing harmonized requirements for the development of an authorization programme and the eligibility criteria for entities to become authorized. The standard identifies the roles and responsibilities of the parties involved in the implementation of an authorization programme. It also describes processes for audits, types of nonconformities, and suspension and revocation of authorization.
Some contracting parties have raised concerns that this proposed ISPM will have undesired effects on their operations. CPM 2020/20 identifies that the concerns raised by contracting parties about the draft ISPM are not technical in nature. The SC revised the draft based on the consultation comments (please refer to Appendix 1 of paper CPM 2020/201) and decided to request guidance from CPM on a way forward.
Due to the postponement of the Fifteenth meeting of the CPM, the discussion of this issue did not take place as planned. The CPM Bureau on behalf of the CPM recommended the Standards Committee (SC) to proceed with recommending the adoption of the draft ISPM to the next CPM session.
This IPPC webinar aims to provide a forum to present the concept of authorization, present case studies and demonstrate successes and challenges identified while authorizing entities. It will provide an opportunity for discussing concerns and positions
LATEST NEWS
Case studies from countries on their application of authorization of entities to perform phytosanitary actions are posted. All IPPC contracting parties were invited to submit case studies before the CPM session. Have a look at the case studies of Australia, Mexico, and New Zealand posted below!
IRSS Study: Please note that the IRSS report on Authorizing entities to perform phytosanitary actions: an overview of the current use of authorization by national plant protection organizations is now available at this link
IPPC news item on the Webinar available here: https://www.ippc.int/en/news/the-first-ippc-webinar-enhancing-the-understanding-of-the-concept-on-authorization-of-entities-to-perform-phytosanitary-actions/