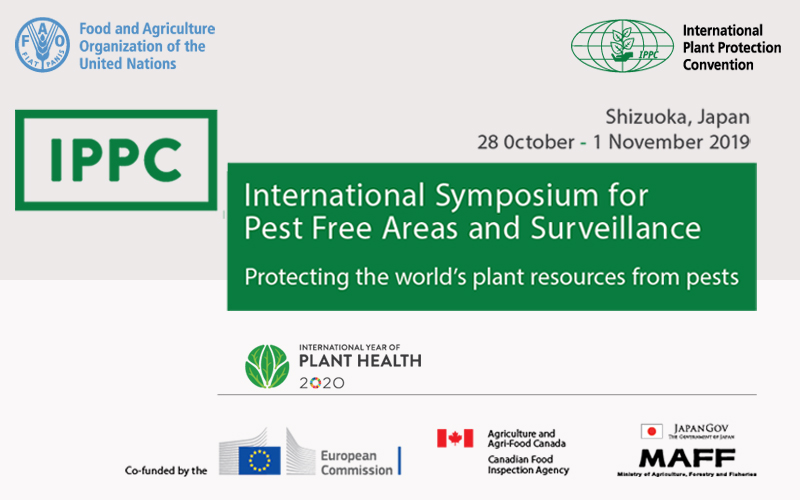 Date: 28 October to 1 November 2019
Venue: Hotel Associa Shizuoka, Shizuoka, Japan
UPDATE 2019-10-30
A news article on the IPPC Symposium on Pest Free Areas and Surveillance has been posted here.
UPDATE 2019-10-28
Participants list has been posted.
UPDATE 2019-10-24
Shizuoka Area Map has been posted.
UPDATE 2019-10-23
Programme has been updated.
UPDATE 2019-10-22
UPDATE 2019-10-21
Programme and Travel and Local information have been updated. The following documents have been posted.
UPDATE 2019-10-15
Dear Participants,
You may be aware that Typhoon Hagibis hit Japan over the last weekend and a number of areas in Japan have been affected.
The IPPC Secretariat is liaising with MAFF Japan to get update on the situation and we confirm that Shizuoka has not been affected by this typhoon. MAFF also confirmed that the public transportation system to get to Shizuoka from the airports (Mr Fuji Shizuoka, Haneda Tokyo International, Narita International and Chubu Cenrtrair International airports) is being operated as per usual.
According to the Japan Meteorological Agency as of today, any other storms are not expected to occur in Japan in near future.
We look forward to meeting you in Shizuoka.
IPPC Secretariat
---
The IPPC International Symposium for Pest Free Areas (PFAs) and Surveillance is an implementation and capacity development event open to the world's phytosanitary community. It brings together representatives from IPPC contracting parties (CPs), regional plant protection organizations (RPPOs), FAO Regional and Sub-regional offices, international intergovernmental, educational and scientific organizations, and private sector/service providers involved in phytosanitary activities and trade.
The Main Objectives of the Symposium are to:
Raise awareness of the:

International phytosanitary framework for Pest Free Areas (PFAs) and Pest Surveillance
Resources for implementing the IPPC with an emphasis on the PFA and Pest Surveillance related materials
Raise awareness of the IPPC and International Year of Plant Health (IYPH) 2020

Provide a platform for presenting and promoting specific PFA and Pest Surveillance initiatives
Generate ideas for national and global capacity development strategies on PFAs and Pest Surveillance
Reinforce partnerships and collaboration between CPs, RPPOs and different stakeholders at the national, regional and global levels
read more...
> Read the Symposium Concept Note for more information
> Programme
> Confirmed speakers

   SUBMIT AN ABSTRACT

   REGISTRATION