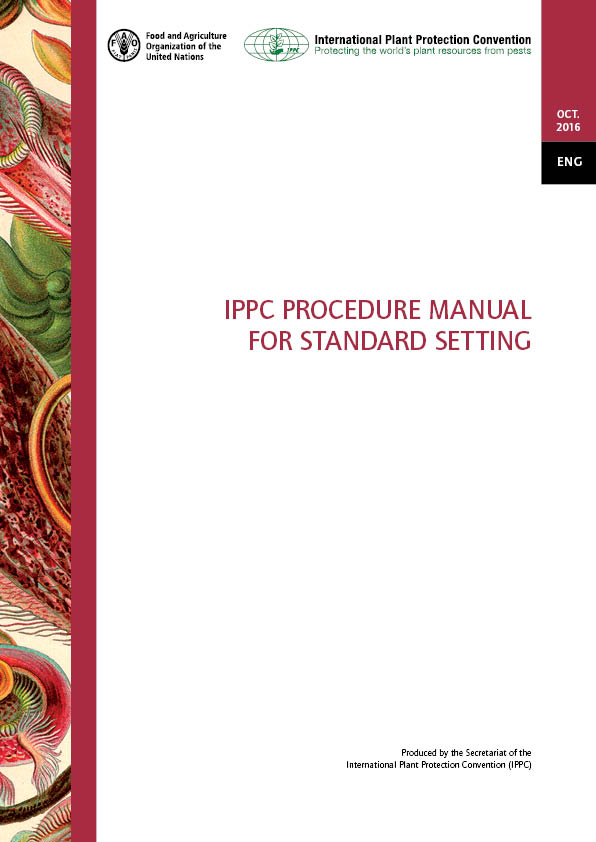 In 2012, the IPPC Secretariat decided to separate the IPPC Procedural Manual into standalone sections, especially since the standard setting section (Section 3) was changing more constantly than the other sections. The IPPC Procedural Manual for Standard Setting is presented on this web page.
The purpose of this manual is to provide a convenient consolidation of decisions, procedures, practices and forms used in the IPPC standard setting process. The 2015-2016 edition of the manual includes decisions and procedures made up to and including the May 2015 Standards Committee meeting and technical panel decisions made before September 2015. The decisions and procedures described herein are subject to amendment by future revisions. The manual will be revised annually in September to include any new decisions and procedures and to amend existing decisions and procedures as necessary.
For the purpose of clarity, all official text, is in black font. Some procedures and decision of the Commission Bureau and Standards Committee are also are in black font, with details of their source noted. Text that is in blue font is for explanatory purposes only and should not be considered to be official decisions.
Publication history (outlining changes from last edition)
2015-2016 version:
Minor change to "Statement of commitment".
Added note where to find TPDP Instructions to authors.
Reference to standard wording for responding to comments.
Included modified CPM rules of procedure to reflect the correct numbering of the annexes (SSP is now Annex 3).
Revoking mechanism moved from 4.7.
Under "Hierarchy of terms of standards" removed the irradiation example as this topic was removed.
Changed diagram on stage 4 for DPs to read "notification period".
Added underline and footnote in rule 6 of the SC to state FAO legal's advice.
Added link to the Adopted ISPMs list in Annex 1.
Deleted "glossary term" in the submission form for topics.
Added note under TPDP that instruction to authors are published publicly on the TPDP page of the IPP.
Added note on interpretation requests for the SC.
Updated TPPT working criteria added.
2016-2017 version:
Included CPM-11 (2015) adopted Standard setting procedure and updated the Procedure manual throughout accordingly (e.g. deleted section on "editorial team", modified "availability of standard setting documents", included additional paragraph in the SC rules of procedure, updated all figures relevant to the process, and edited all sections to ensure consistency in terminology with the new procedure. In this context, a number of paragraphs were moved for better flow, and black vs blue text was checked and corrected where necessary.
Deleted Annex 9 as pertaining to "formal objections".
Updated section on IPPC regional workshops.
Included note on process for ink amendments in languages other than English.
Major reorganization and update of the TPPT section.
Updated submission form for topics with consistent and correct wording.
Publication history last updated: 2016-10
This web page was updated on 2016-10-11. For queries or comments regarding the contents of this page, please contact
Eva.Moller@fao.org.