Posted on Fri, 11 Sep 2020, 10:17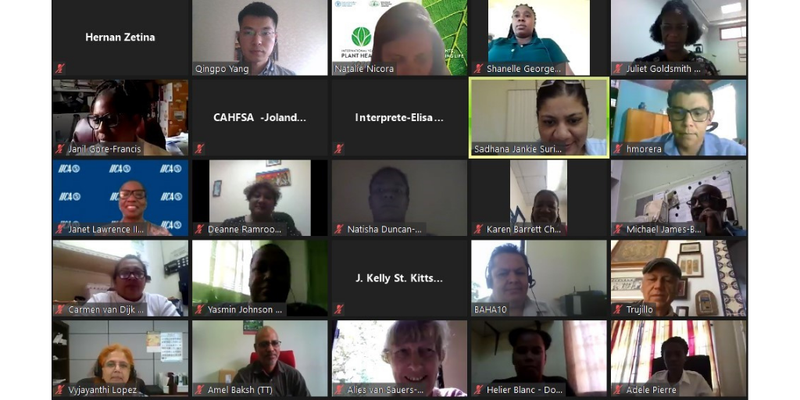 Rome, 1 September 2020. The 2020 IPPC Regional Workshop for Caribbean was held virtually from 1 to 3 September with the participation of 55 representatives from 17 Caribbean countries and territories: Anguilla, Antigua and Barbuda, Bahamas, Barbados, Belize, Cayman Islands, Dominica, Grenada, Guyana, Haiti, Jamaica, St Kitts and Nevis, St Lucia, St Vincent and the Grenadines, Suriname, Trinidad and Tobago, and Turks and Caicos Islands.
Ms Vyjayanthi Lopez, Plant Production and Protection Officer at the FAO Sub-Regional Office for the Caribbean officially welcomed the participants including heads of national quarantine authorities and delegates. She highlighted the importance of the work of the IPPC, which through the Standards Committee and Expert Drafting Groups has developed over the years International Standards for Phytosanitary Measures (ISPMs) to address plant health and other global issues.
IPPC regional workshops are a great opportunity to provide inputs to international standards, as well as to strength capacity development. During his welcoming remarks, Mr Simeon Collins, Chief Executive Officer at the Caribbean Agriculture Health and Food Safety Agency (CAHFSA), highlighted that the workshop is a unique opportunity for countries to increase their phytosanitary capacity to protect plant resources, and share experiences in regards to standard setting. In addition, Ms Janet Lawrence, Agricultural Health, Safety and Food Quality Specialist from Inter-America Institute for Cooperation on Agriculture (IICA), provided a brief overview on the contribution of IICA on protecting plant resources and cooperation with the global plant health community.
During the workshop, updates on Governance and Strategy, including the Commission on Phytosanitary Measures (CPM) and its Bureau, the Standards Committee (SC) and the Implementation and Capacity Development Committee (IC) were presented respectively by Javier Trujillo Arriaga, CPM Chairperson, Mr Hernando Morera González, SC representative, and Mr Francisco Gutierrez, IC representative. Moreover, Mr Brian Crichlow, Assistant Director - Agriculture at Cayman Islands Department of Agriculture, presented an update on the e-Phyto activities undertaken in the Caribbean region.
Jamaica and Bahamas shared their impressive programme of national activities to promote the International Year of Plant Health (IYPH) 2020 at the country level, which were very well received by the participants. Ms Lopez presented the FAO Regional phytosanitary capacity development activities and projects. Presentations on the IPPC guide on pest free areas and the activities organized by the Regional Plant Protection Organization to prevent the spread of plant pests and diseases and build phytosanitary capacity at the regional level were delivered by Ms Alies van Sauers Muller, fruit fly consultant to the Ministry of Agriculture Animal Husbandry and Fisheries of Suriname, and Ms Juliet Goldsmith, Plant Health Specialist at CAHFSA, respectively.
Four draft standards and one CPM recommendation were presented for review and commented by the participants during the workshop. Those include: Audits in the phytosanitary context (2015-014); Focused Revision of ISPM 12 in relation to re-export (2015-011); Draft 2020 Amendments to ISPM 5 (Glossary on phytosanitary terms) (1994-001); Commodity-based standards for phytosanitary measures (2019-008); and Draft CPM Recommendation: Safe provision of food and other aid to prevent the introduction of plant pests during an emergency situation (2018-026).
The report of the 2020 IPPC Regional Workshop for the Caribbean will be published at the following link: https://www.ippc.int/en/core-activities/capacity-development/regional-ippc-workshops/
Presentations from the 2020 IPPC Regional Workshop are available at the following link: https://www.ippc.int/en/core-activities/capacity-development/regional-ippc-workshops/2020-ippc-regional-workshop/