Posted on Tue, 01 Oct 2019, 11:51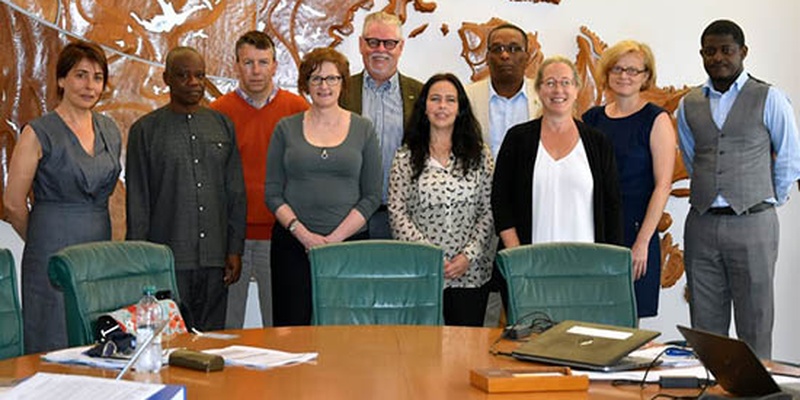 Working Group experts meet in Rome, Italy to start developing a Pest Status Guide. © FAO
16 September 2019, Rome – An expert working group met in Rome from 16 to 20 September 2019 to kick off the development of a Pest Status Guide (2017-048). Indeed, determining the status of pests within a country is crucial for national plant protection organizations (NPPOs) engaged in performing pest risk assessments, developing and maintaining regulated pest lists, establishing phytosanitary measures, issuing phytosanitary certificates and reporting on pests. Furthermore, a lack of information on pest status can limit market access or lead to unwarranted protective measures.
The Pest Status Guide
The overall objective of the guide is to provide general guidance on determining pest status to national plant protection organizations; and to support the implementation of ISPM 8: Determination of pest status in an area.
The Pest Status Guide will also address challenges identified in Implementation and Review and Support System (IRSS) surveys - including the 2012 ISPM 8 Survey and the 2012 and 2016 IPPC General Surveys.
The Pest Status Guide is scheduled to be published in 2020 and is being developed with the generous financial support of the European Commission.
The working group meeting
The main objective of the working group meeting was to develop a preliminary draft of the Guide and agree on a work plan for completing it.
Each member of the working group agreed to take responsibility for completing different chapters. Experts were also tasked with providing relevant case studies and examples for inclusion in the Guide.
The experts had lively discussions about the factors that should be considered when evaluating the reliability of the pest records and information sources used for determining pest status. These include ''transience'', "official control" and "not widely distributed".
Working group members mapped out a flowchart to describe the steps for determining the status of a pest and what should be done when there is insufficient reliable information. They also discussed the importance of pest status determination for preparing regulated pest lists and supporting technical trade negotiations.
The meeting was organized by the IPPC Secretariat and chaired by Mr Nelson LAVILLE (Dominica). Phytosanitary experts from around the world and IPPC Secretariat staff participated in the meeting.
Revision of ISPM 8: Determination of pest status in an area
The Draft revision of ISPM 8 (2009-005) is currently out for second consultation. Aligning the development of IPPC guides with the development of ISPMs will make it easier for IPPC contracting parties to implement the ISPMs.
Once the Commission on Phytosanitary Measures (CPM) adopts the revision to ISPM 8, the Pest Status Guide will be finalised and shared with the IPPC and plant health community.