Posted on Tue, 01 Oct 2019, 10:22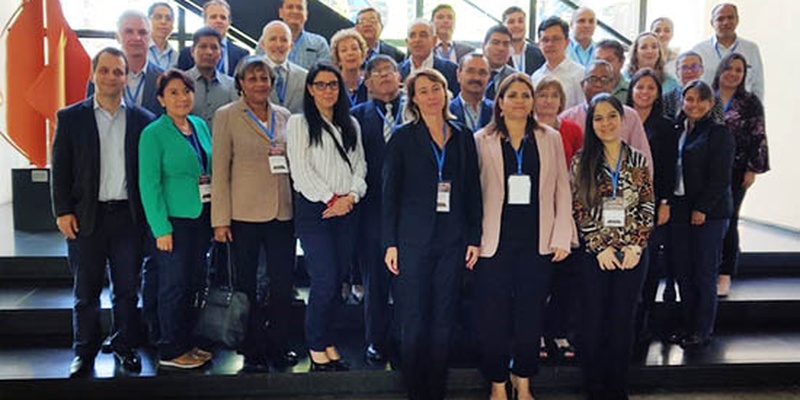 The 2019 IPPC Regional Workshop for Latin America was organized in Medellín, Colombia from 3 to 6 September 2019. @ ICA
3 September 2019, Medellín - The 2019 IPPC Regional Workshop for Latin America was held in Medellín, Colombia from 3 to 6 September 2019. Thirty-five persons from 19 IPPC contracting parties and several institutions attended the workshop. The FAO Agricultural Officer of the Subregional Office for Mesoamerica (FAO-SLM) was also present.
The workshop was co-organized by the Instituto Colombiano Agropecuario (ICA); the three Regional Plant Protection Organizations (RPPOs) in Latin America – the Communidad Andina (CAN), the Comite Regional de Sanidad Vegetal del Cono Sur (COSAVE) and the Organismo Internacional Regional de Sanidad Agropecuaria (OIRSA); the Inter-American Institute for Cooperation on Agriculture (IICA) and the IPPC Secretariat.
Mr Emilio Arevalo Peñaranda, ICA's Technical Director of epidemiology and phytosanitary surveillance, chaired the meeting. He underlined the excellent collaboration among the three RPPOs, NPPOs, IICA and the IPPC Secretariat. Participants reiterated the importance of having a representative from the IPPC Secretariat at the IPPC Regional Workshop for Latin America.
Ms Sarah Brunel, IPPC Implementation and Facilitation Officer, represented the IPPC Secretariat. Standards Committee (SC) members Mr Ezequiel Ferro, Mr André Felipe C. P. da Silva, Mr Alvaro Sepúlveda, and Ms Beatriz Melchó, as well as Implementation and Capacity Development Committee (IC) member Mr Francisco Gutierrez played active roles in delivering presentations and stimulating regional discussions.
Participants reviewed and provided comments on four draft International Standards for Phytosanitary Measures (ISPMs) undergoing a second consultation; as well as a recommendation on "Safe provision of food and other aid to prevent the international spread of plant pests" sent for first consultation.
They then discussed priorities for the region within the IPPC Strategic Framework 2020-2030, planned activities in the region for the IYPH 2020 and identified regional topics for the 2021 Call for topics on standards and implementation. Participants were also briefed on the latest ePhyto developments.
A half-day special session was organized on Fusarium oxysporum f. sp. cubense Tropical Race 4 during which:
OIRSA presented the pest, its impacts and the simulation it organized in almost all its Member Countries as capacity development exercises for preparedness.

Colombia presented all contingency actions taken since the outbreak of the pest in La Guajira.

All countries presented an update on activities undertaken to prevent the entry of this pest.

The newly drafted FAO regional project specifically related to this pest was presented by the FAO Agricultural Officer and comments were gathered from participants to improve the effectiveness of its implementation.
A field visit to a Chrysanthemum production plant was organized by ICA.
This IPPC Regional Workshop was almost entirely financed by regional bodies, in particular RPPOs. This is a model which can be replicated in other regions.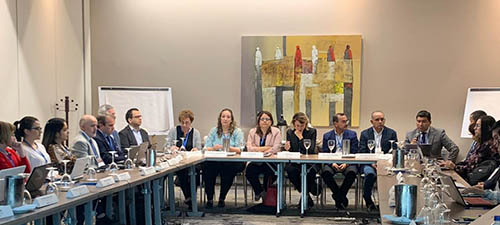 2019 IPPC Regional Workshop for Latin America group discussions. @ ICA