Posted on Fri, 28 Feb 2020, 14:43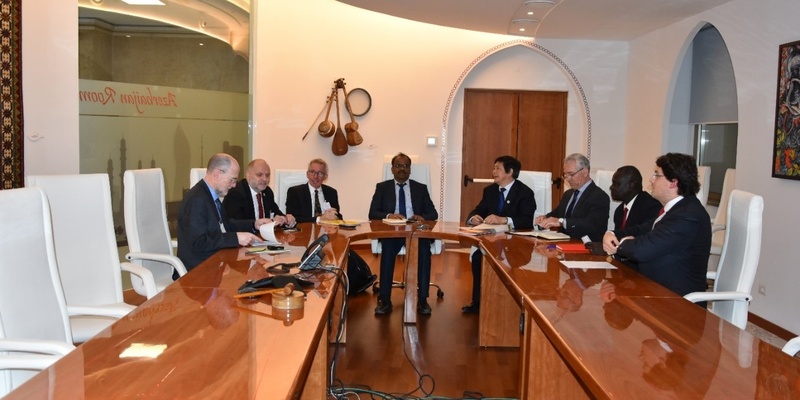 Rome, 5 February 2020 - A representation of the IPPC Secretariat, led by Mr Jingyuan XIA, IPPC Secretary, and accompanied by Mr Avetik NERISYAN, Mr Arop DENG and Mr Riccardo MAZZUCCHELLI, met with a delegation from the International Seed Testing Association (ISTA), led by Mr Craig McGILL, ISTA Immediate Past-President , and accompanied by Mr Keshavulu KUNUSOTH, Mr Andreas WAIS and Mr Steve JONES, ISTA President. The two organizations discussed potential collaboration, as the soon-to-be-endorsed IPPC Strategic Framework 2020- 2030 and its development agenda that offers multiple opportunities to cooperate.
Mr XIA introduced the work of the IPPC Secretariat and described the important achievements by the global plant health community, especially considering that 2020 has been declared the International Year of Plant Health (IYPH). The IYPH is a unique opportunity, Mr Xia stated, to raise awareness about plant health in national agendas, exploring also the linkages with food security, fair trade and environmental protection, which are IPPC objectives. Mr NERSISYAN, Leader of the IPPC Standard Setting Unit, has been the IPPC Secretariat focal point to ISTA, maintaining an open channel for communication and collaboration.
Mr McGILL showed a very strong interest in cooperating with the IPPC. He proposed the first opportunity to collaborate at the upcoming ISTA Annual Meeting taking place in Verona, 25-28 May 2020 including a session on ISPM 38 (International movement of seeds). Other potential initiatives include the drafting of a catalogue of seed-transmittable diseases and making the ISTA testing methodology available to national laboratories to streamline a shared way to test seeds for phytosanitary issues and synchronize legislation across countries to remove unnecessary barriers to trade while keeping it safe.
Meeting photos are available at: https://www.flickr.com/photos/182442121@N04/albums/72157713092935547