Posted on Mon, 22 Oct 2018, 09:21

Participants at the 15th Annual International Forestry Quarantine Research Group (IFQRG) Meeting. The group supports the improvement of plant health by addressing critical forestry quarantine issues for the global plant health community.
5 October 2018, Rome – At the 15th Annual Meeting of the International Forestry Quarantine Research Group (IFQRG) participants looked at ways in which sound scientific research and guidance can support the implementation of International Standards for Phytosanitary Measures (ISPMs) in forestry. The IFQRG serves an important role in supporting the development of effective science-based policies as its members include scientific, regulatory and industry experts.
"While many scientists and organizations have done a great job of identifying challenges and problems with forest phytosanitary issues, IFQRG's greatest strength is its focus on finding solutions," remarked Eric Allen, the outgoing chair of the IFQRG.
The meeting was hosted by the International Plant Protection Convention (IPPC) and took place in Rome from 1 to 5 October 2018. Representatives from 14 countries and organizations presented current research and collaborative projects supporting ISPMs on systems approaches, wood packaging material, phytosanitary treatments and the international movement of wood.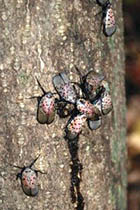 Spotted lantern fly (Lycorma delicatula) attacks a tree of paradise. Photo credit: Penn State Extension.
The IFQRG members also finalized their Terms of Reference and Rules of Procedure which will be posted on their website. They also discussed the initial results from their Strategic Research Questionnaire that aimed at gathering information to review key forest quarantine issues globally. Results from the survey will inform the group about global research needs and priorities. Representatives from National Plant Protection organizations (NPPOs), research organizations and industry are invited to participate. The deadline for the survey has been extended to 1 December 2018.
The IFQRG also clarified key issues related to the phytosanitary implications of global trade; and presented scientific evidence that further supports the efficacy of the ISPM 15 ( the regulation of wood packaging material in international trade) heat treatment schedule of 56C for 30 minutes.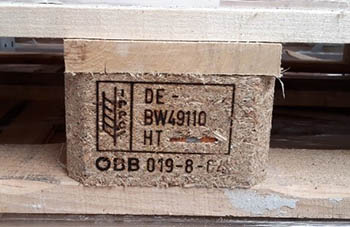 ISPM 15 Regulation of wood packaging material in international trademark on a wood pallet. Photo credit: Thomas Schröeder.
Group members presented scientific research, and developments, that support alternatives to methyl bromide and other treatments. Sub-committees were formed to develop guidelines for dielectric heat treatment and the conventional heating of wood packaging materials. A sub-group of IFQRG members are creating simplified guidelines to assist NPPOs in developing countries in implementing ISPM 15.
Participants also:
looked at ways to support and promote the International Year of Plant Health in 2020, including through workshops and media outreach;

discussed ways to support the implementation of forest products systems approaches; and

identified areas where scientific research may be conducted to support the soon to be adopted regional standard for phytosanitary measures- RSPM 41 The Use of Systems Approaches to Manage Pest Risks Associated with the Movement of Forest Products.

Steps in the production of forest products where phytosanitary measures may be applied to reduce pest risk as part of a systems approach. Figure credit: Meghan Noseworthy.
Share on Facebook