Posted on Thu, 19 Dec 2019, 10:24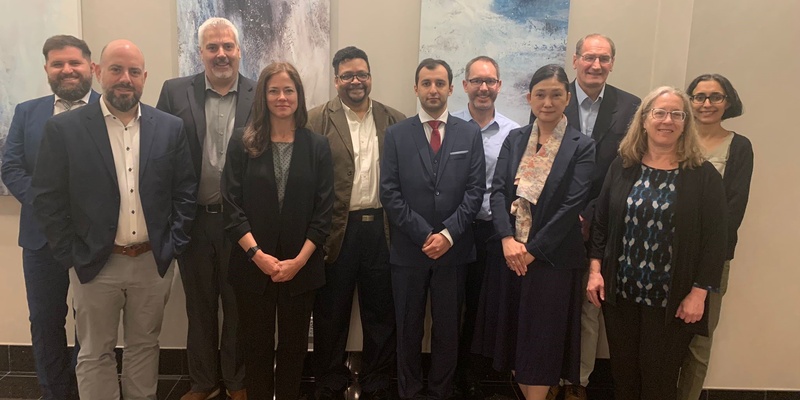 Expert Working Group participants, including the staff from the IPPC Secretariat @ FAO
12 December 2019, Rome – The Expert Working Group (EWG) on Focused revision of ISPM12 (Phytosanitary Certificates) in relation to re-export met at FAO headquarters in Rome, Italy from 9 to 12 December 2019 to revise the text of the IPPC standard.
When it comes to phytosanitary certificates in re-export situations the need for more clarity and consistency is indeed a key issue. To avoid any contradiction and ambiguity, in 2015 the Standard Committee (SC) decided to adopt a two-step approach. Firstly, the EWG drafted the focused revision of ISPM 12 in relation to re-export using correct and unambiguous terminology. Secondly, the definition of three consignment-related terms, such as 'identity', integrity' and 'phytosanitary security' will be finalized with the support of the Technical Panel for the Glossary (TPG). As a result, in 2018 the SC approved the Specification 67 for the focused revision of ISPM 12 in relation to re-export, requesting the EWG to suspend the inclusion of the three terms currently under scrutiny in the text revision.
The aim of the focused revision is thus to ensure more clarity to the National Plant Protection Organizations and improve comprehension of the revised standard. In the December meeting, the EWG agreed on a draft version of the focused revision and discussed the potential benefit of expanding the revision on further typical re-export situations, such as the multiple successive re-exports. In addition, possible operational and technical issues for the revised standard, including recommendations from the TPG and information related to re-export, were also discussed. The EWG considered the option of giving additional guidance on specific situations in a manual. The results of these discussions and the draft version of the focused revision will be presented to the Standard Committee.
Along with the IPPC Standards Setting Unit members, five experts attended the meeting, including Ms Laurence BOUHOT-DELDUC from France, Ms Margaret JOHNSON from the United States of America, Ms Maoyu CHEN from China, Mr Ebbe NORDBO from Denmark, and Mr Haddon BELL from Australia.
For more information on the EWG for the Focused revision of ISPM 12 (Phytosanitary certificates) in relation to re-export, please visit the following link: https://www.ippc.int/en/events/event/785/. The report of the meeting will be soon available on the IPP.