Posted on Thu, 19 Dec 2019, 10:50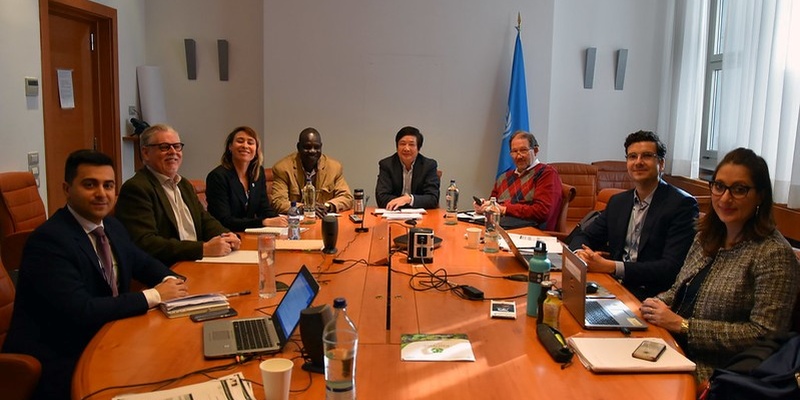 Participants from the IPPC Secretariat attending the Bureau virtual meeting ©FAO
Rome, 12 December 2019 – The CPM Bureau gathered virtually for its last meeting of 2019 on 12 December 2019 to review the activities for the ending year while looking forward to the beginning of the International Year of Plant Health. Mr Jingyuan XIA, IPPC Secretary, delivered his opening remarks by mentioning the successful launch event that took place at FAO headquarters in Rome on 2 December 2019 and the IPPC Secretariat involvement in the global action on Fall Armyworm (FAW). Both elements, he said, are a sign to the increased IPPC recognition and visibility.
The CPM Bureau, chaired by Mr Javier TRUJILLO, discussed and paved the way for the preparatory work in view of the coming CPM-15 in March/April 2019: side events on key topics and in partnership with strategic partners, the ministerial segment and the adoption of the IPPC Strategic Framework 2020-2030, noting how the implementation of the eight-point development agenda is a shared task of the IPPC Secretariat.
The IPPC Secretariat provided updates on the activities carried out since the previous CPM Bureau meeting and throughout 2019, with several mentions to participation and organization of regional workshops. The CPM Bureau acknowledged the updates from the International Steering Committee and Secretariat of the International Year of Plant Health, with special focus on its numerous coming activities and legacy once 2020 is passed, noting that 2021 will be IPPC's 70th anniversary.
In conclusion, the CPM Bureau agreed to work closely with the IPPC Secretariat to strengthen collaboration and communication with the purpose of continuing to ensure the delivery of a successful International Year of Plant Health.