Posted on Tue, 15 Oct 2019, 09:20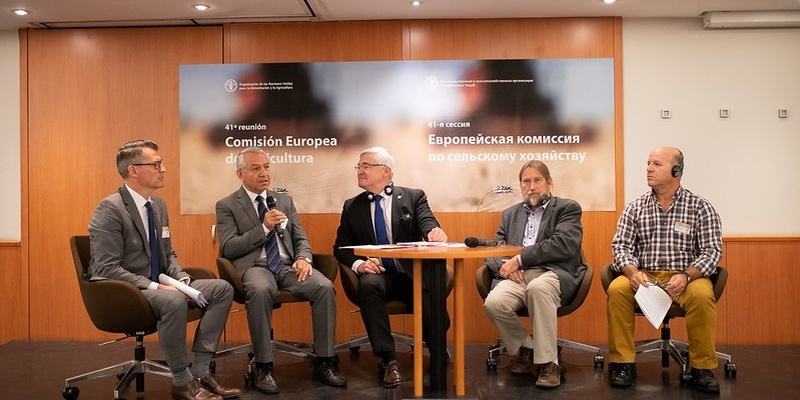 Panel discussion at 41st ECA session. Copyright: FAO REU
Budapest, 1-2 October 2019. Two staff of the IPPC secretariat and contracting parties attended the 41st session of the European Commission on Agriculture (ECA), in the context of preparations for the International Year of Plant Health. Policy makers and agricultural experts from 33 countries attended the session, hosted in Budapest by the government of Hungary and organized by the FAO Regional Office for Europe and Central Asia.
Plant Health was high on the agenda, with a focus on the International Year of Plant Health as well as the growing impact of international trade, climate change and human mobility on the spread and introduction of harmful pests and diseases. In his introductory remarks, Mr Vladimir Rakhmanin, Assistant Director-General of FAO, highlighted that protecting plants from pests is at the very heart of the FAO mandate, as pests can hamper food security.
Mr Avetik Nersisyan, IPPC Standard Setting Unit Leader, participated in a panel discussion on "Plant health in Europe and Central Asia - relevance, trends and developments", chaired by Mr Ralf Lopian, Chairperson of the IYPH International Steering Committee. In Mr Lopian's words: "Plant pests don't carry passports and we need to further cooperate to increase resources for national plant protection organizations and plant health research".
Mr Mirko Montuori, IPPC governance and public information specialist, coordinated the side event entitled: "Towards the International Year of Plant Health in 2020: Protecting Plants, Protecting Lives". During the event, speakers reflected on the relevance of the IYPH towards achieving the UN 2030 Agenda, and proposed concrete actions to implement the Year at national and regional level, while informing on modalities to interact with the IYPH Secretariat.
More pictures at this link.