Posted on Fri, 11 Oct 2019, 17:16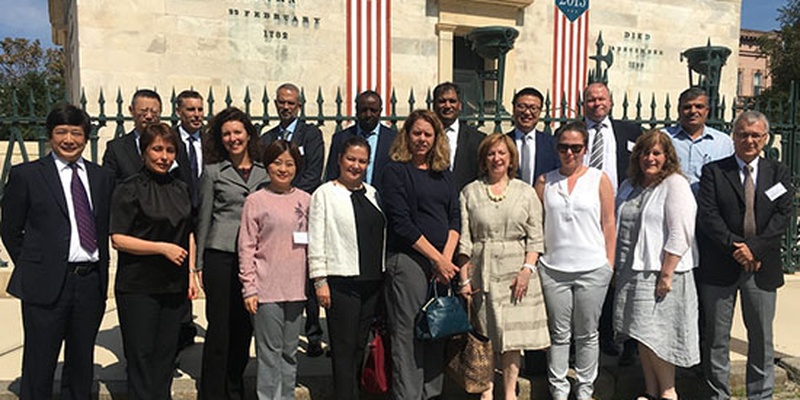 Participants at the September 2019 IPPC Sea Containers Task Force (SCTF) meeting. © FAO
23 September 2019, Baltimore - The third meeting of IPPC Sea Containers Task Force (SCTF) took place in Baltimore, USA, from 23 to 27 September 2019. The main objective of the meeting was to review the SCTF's work since it was established in 2017; and to decide on a road map for developing recommendations for the Implementation and Capacity development committee (IC) and the 2021 Commission on Phytosanitary Measures (CPM-16).
The SCTF:
Reviewed their Terms of Reference and concluded that the SCTF, the IPPC Secretariat, national plant protection organizations (NPPOs) and regional plant protection organizations (RPPOs) were on track with all their activities.

Discussed results from the SCTF Questionnaire on Monitoring of Sea Container Cleanliness - noting contracting parties (CPs)' low rate of participation. The report will be available in all official FAO languages at https://www.ippc.int/en/core-activities/capacity-development/capacity-development-committee/ic-sub-group/ic-sub-group-sea-container-task-force-sctf/

Noted that the national sea containers surveys were not proceeding as expected. Results of the surveys conducted by Australia, New Zealand, Australia, the USA and Canada will be made available after the information gathered has been analysed. The SCTF encouraged CPs to establish sea containers surveys according to the IPPC Guidelines on Sea Container Surveys for NPPOs and submit results to the IPPC Secretariat. These will be used to help develop recommendations on how to reduce pest risks associated with the movement of sea containers for CPM-16.

Discussed the possibility of using World Customs Organization (WCO) Data Models and the Authorized Economic Operators (AEO) concept to track information on sea containers cleanliness. Members of the SCTF from NPPOs will investigate the feasibility of this with their national stakeholders and report their findings at the SCTF next meeting.

Finalized their communication work plan.

Highlighted the importance of continuing to work with the International Maritime Organization (IMO), and its correspondence group, to include cleanliness criteria in IMO inspection programmes.

Agreed to internally revise the Code of Practice for Packing of Cargo Transport Units (CTU) Code to come up with proposals for when the CTU Code is officially opened up for revision.

Agreed on the IPPC Best practice guidelines on Measures to minimize pest contamination and a leaflet to be approved by the IC.

Identified needs and challenges when managing pest risks associated with the movement of sea containers, thus creating the basis for the future recommendations.

Developed their 2019 Work plan to be approved by the IC.
The next meeting of the IPPC SCTF will be from 30 November to 4 December 2019 in Europe. This will ensure that participants from all FAO regions will be able to attend; and allow sufficient time to prepare the final recommendations for the IC.
The full report of the meeting will be available at:
https://www.ippc.int/en/core-activities/capacity-development/sea-containers/
More information on sea containers and the SCTF is available at: