Specially made cake for celebrating the IYPH Launch: Cake cutting event by dignitaries ©IPPC
Rome, 2 December 2019 - The IPPC Secretariat hosted a reception at FAO headquarters to mark the Launch event of International Year of Plant Health (IYPH) 2020.
The reception was attended over 200 participants, including Mr Andrew Doyle, Minister of State at the Department of Agriculture, Food and the Marine of Ireland; Ms Jaana Husu-Kallio, Permanent Secretary of the Ministry of Agriculture and Forestry of Finland; and Ms Tamara Finkelstein, Permanent Secretary of Department for Environment, Food and Rural Affairs of the United Kingdom of Great Britain and Northern Ireland.
Ms Vincenza Lomonaco, Ambassador and Permanent Representative of Italy at the United Nations Organizations in Rome, made opening remarks at the Reception. She applauded the efforts of the international community, led by FAO and the IPPC Secretariat, to ensure that International Standards for Phytosanitary Measures are developed to sustain plant health and that countries benefit from their wide application. She, on behalf of Italy, also expressed the commitment of Italy to continue making a contribution to the IYPH programme of events.
Mr Bukar Tijani, Assistant Director-General of the FAO Agriculture and Consumer Protection Department, congratulated the organizers for the successful launch event and expressed his willingness to support future IYPH-related events.
Mr Ralf Lopian, Chairperson of IYPH International Steering Committee, recalled the occasion that he offered to act as a champion to the IYPH initiative and expressed his enjoyment for this successful launch event. He also made a commitment to continue to contribute to IYPH 2020 together with IPPC Secretariat.
Mr Jingyuan Xia, IPPC Secretary, opened and chaired the Reception. He expressed his appreciation to the IYPH Chairperson Mr Ralf Lopian who first proposed the IYPH proclamation and played a leading role in all negotiations and preparation phases until today. He highlighted the successful cooperation of IPPC, AGP and PSP divisions and OCC for the preparation of IYPH promotion activities. Mr Xia also expressed his thankfulness to Mr Arop DENG and Mr Mirko MONTUORI as the focal points of IPPC Secretariat to support the work of IYPH International Steering Committee and prepare this successful launch event.
During the reception, participants shared the satisfaction and valuable experience of kicking off the international year. All participants emphasized that the IYPH is a lifetime opportunity to raise global awareness on plant health, which is the basis of life and key to achieve the Sustainable Development Goals. The participants made commitments to take an active role to ensure and promote plant health.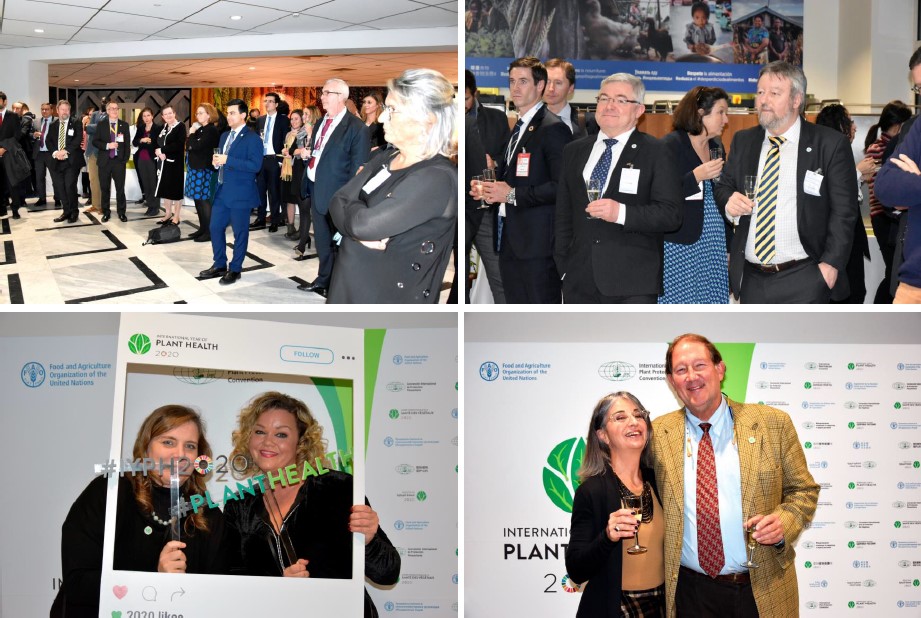 .....