Posted on Thu, 05 Dec 2019, 12:22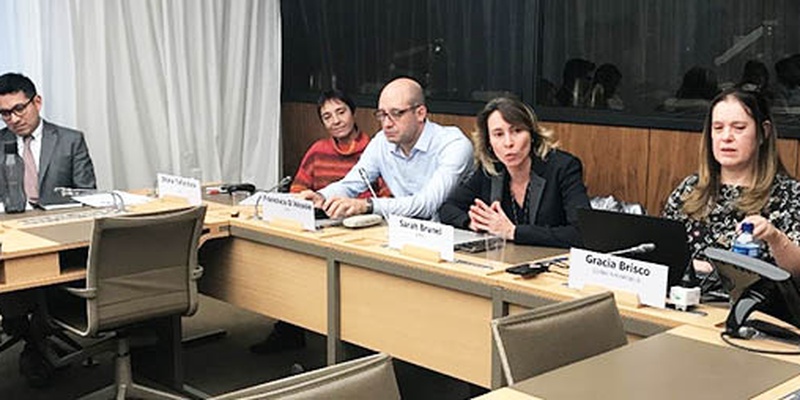 IPPC Implementation Facilitation Officer Ms Sarah Brunel (center) during the part of the course dedicated to the International Standard Setting Bodies. © FAO
12 November 2019, Geneva – Every year, the World Trade Organization (WTO) runs a two-week Sanitary and Phytosanitary Measures (SPS) advanced course tailored to government officials from developing countries. The course helps participants better understand and implement the WTO-SPS Agreement, benefit from its provisions, and engage more fully in the work of the SPS Committee.
This year's course was delivered in English to twenty-two participants from Bahamas, Belarus, Bosnia and Herzegovina, Brazil, Cameroon, China, Egypt, India, Jordan, Kenya, Lao People's Democratic Republic, Liberia, Malaysia, Mozambique, Myanmar, Nepal, Rwanda, Saint Vincent and the Grenadines, South Africa, Thailand, Turkey and Ukraine. It was held in Geneva, Switzerland from 4 to 15 November 2019.
Ms Sarah Brunel, IPPC Implementation Facilitation Officer, represented the IPPC Secretariat during the two-day section of the course dedicated to the International Standard Setting Bodies (ISSB) recognised in the SPS agreement, commonly known as the "three sisters" (OIE, Codex Alimentarius and the IPPC Secretariat).
On the first day, Ms Brunel gave a general presentation on the IPPC and the activities of the IPPC Secretariat. She also gave an overview of FAO activities on Fall Armyworm (Spodoptera frugiperda) and how these activities link to the draft IPPC Strategic Framework (2020-2030) – in particular the development agenda item on "Pest Outbreak Alert and Response Systems". On the second day, participants were offered the choice to attend one of three separate sessions prepared by the "three sisters" for more in-depth discussions.
Participants welcomed the opportunity to learn about the ISSBs and appreciated lively interactions with the representatives from the "three sisters". Many considered this session the highlight of the overall course.