Posted on Wed, 28 Sep 2016, 13:13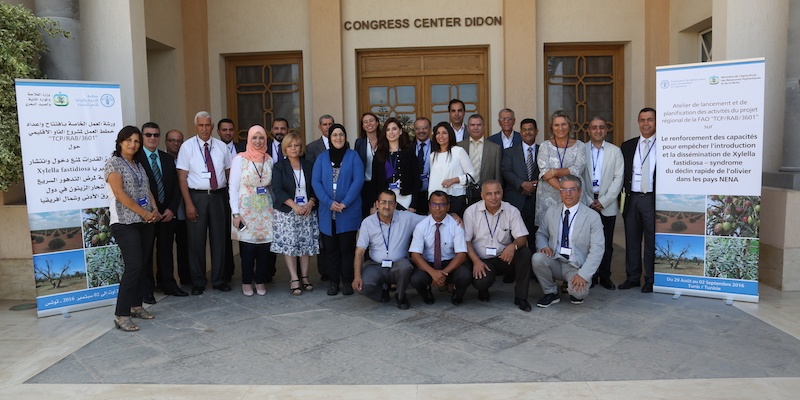 The workshop on FAO TCP project (TCP/RAB/3601) for developing phytosanitary capacities to prevent the introduction and spread of Xylella fastidiosa was organized from 29 August - 2 September, 2016, in Tunis. The workshop informed the participants on the latest information on the biology of the species, on surveillance, and on diagnostic and management methods. Participants brainstormed on their national needs to efficiently prevent the introduction and spread of the bacterium. They elaborated national work plans with activities related to: 1) the identification and engagement of partners and stakeholders in the contingency plan against Xylella fastidiosa; 2) the development of capacities of all relevant stakeholders in surveillance, diagnostic and management methods for Xylella fastidiosa; 3) the implementation of an efficient surveillance plan against the species; and 4) the public awareness and communication activities on the risk the species represents and the related preventive measures. Participants were also trained on sampling and monitoring methods for Xylella fastidiosa by the CIHEAM during the field trip. They received concrete instructions on rapid diagnostics using real time LAMP technology.
The TCP project was launched officially in August 2016 and is expected to end in September 2017. It is led by the FAO Regional Office for the Near East and North Africa, in coordination with the FAO sub-regional office for North-Africa, the Near East Plant Protection Organization (NEPPO) and the IPPC. The role of the IPPC within this project is to provide technical support on the activities related to phytosanitary issues and capacity development, and to make synergies with other IPPC activities related to Xylella fastidiosa.
Algeria, Egypt, Libya, Lebanon, Morocco, Tunisia, West Bank and Gaza Strip are the beneficiaries of this project, as Xylella fastidiosa could potentially destroy 40 million hectares of olive trees in the Mediterranean basin and cause problems for thousands of farmers, mainly small ones who depend on this crop.
Several press articles were released on this event: