Posted on Wed, 28 Sep 2016, 11:43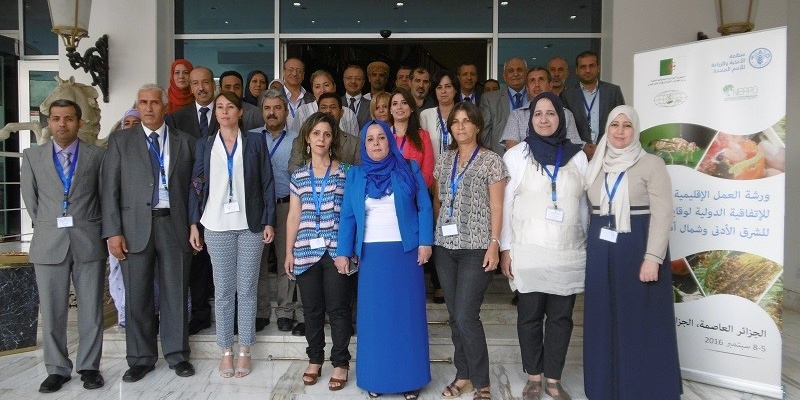 The 2016 IPPC Regional Workshop for the Near East and North Africa was held from 5-8 September in Algeria. The workshop was organized by the IPPC in collaboration with the regional office of the Food and Agriculture Organization of the United Nations (FAO) and the Near East Plant Protection Organization (NEPPO). Over 30 participants attended the workshop, who came from 16 countries of the region, as well as the IPPC, the FAO regional office and NEPPO. This kind of initiative has showcased a perfect collaboration between IPPC, FAO offices and NEPPO in this region.
Mr. Shoki Al-Dobai, Regional Plant Protection Officer at FAO said: "These workshops are extremely important to exchange experiences about pest challenges". While he added that "Experts from the 16 countries will be informed on the best practices in the field of prevention and control of pests".
Participants were introduced to the new Online Commenting System (OCS) to provide their comments on the three draft standards proposed in 2016: the revision of the ISPM 5 "Glossary of phytosanitary terms"; the revision of the ISPM 6 "Guidelines for surveillance"; and a new draft standard on "Requirements for the Use of Temperature Treatments as Phytosanitary Measures".
Interactive presentations were delivered on the latest IPPC information: the import verification manual; the Implementation Review and Support System Helpdesk; the phytosanitary resource page; and the IPPC survey on emerging plant health issues. The participants were invited to brainstorm and to provide their ideas on how their country can concretely contribute to the IPPC pilot project on surveillance, and to the International Year of Plant Health. The FAO regional office and NEPPO performed presentations on their activities, allowing a lively exchange of information at the regional level.
An extra session was organized on emerging pests in this region. A presentation was delivered on Parthenium hysterophorus, a devastating weed lowering the yields of many crops, invading natural areas, and having huge detrimental human and animal health impacts. Another presentation highlighted the growing importance for North-Africa of Opuntia ficus-indica as a crop. This crop is now under threat from the pest Dactylopius opuntiae, having already had negative impacts in Morocco.
The workshop was concluded with suggestions from the countries of regional activities which included: getting further support to manage Parthenium hysterophorus and Dactylopius opuntiae; raising awareness on climate change and its adverse effects on plant production and pests; and sharing regional information on fruit flies and on pests of palm trees.
The report of the workshop will be posted here; and the presentation specific to this workshop will be available here.