Posted on Tue, 27 Sep 2016, 14:54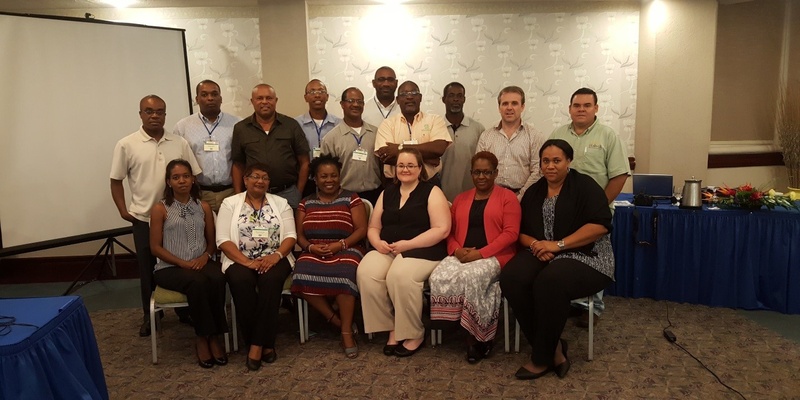 The 2016 IPPC Regional Workshop for the Caribbean was held from 13-15 September 2016 in Christ Church, Barbados. The Workshop was co-organized with the Inter-American Institute for Cooperation on Agriculture (IICA), and hosted by the Government of Barbados. Funding for the Workshop was provided by the IPPC Secretariat and the 10th European Development Fund (EDF) Sanitary and Phytosanitary (SPS) Measures Project, which is being implemented by IICA. Thirteen participants from 12 contracting parties, representatives from IICA, the FAO Sub-Regional Office, the IPPC Secretariat, and a member of the IPPC Standards Committee attended the workshop.
Mr Michael James (Barbados) chaired the meeting with the support of the IICA representative Ms Carol Thomas, the IPPC Secretariat representative Ms Stephanie Dubon, and the representative of the IPPC Standards Committee Mr. Ezequiel Ferro. Ms Janil Gore-Francis (Antigua and Barbuda) was elected as Rapporteur. Mr Esworth Reid (Permanent Secretary, Ministry of Agriculture, Food, Fisheries and Water Resource Management) opened the workshop, and further opening remarks were made by Ms Katja Svensson (Programme Manager for Regional Cooperation and Trade Section, Delegation of the European Union, Eastern Caribbean Countries, OECS and CARICOM/CARIFORUM) and Ms Vyjayanthi Lopez (Plant Production and Protection Officer, FAO Sub-Regional Office for the Caribbean). Mr Jingyuan Xia, the IPPC Secretary, conveyed the IPPC welcome message via video.
The objectives of the Workshop were to learn how to analyze draft ISPMs and to formulate productive comments using the examples of draft ISPMs for the 2016 draft ISPM consultation; to build phytosanitary capacity and raise awareness on all activities related to the IPPC; and to exchange experiences at the regional level.The participants engaged in the workshop activities and shared information, such as joint positions on draft standards and emerging issues in the region. This workshop was key to support capacity development at the national and regional levels and also an information gathering exercise for making strategic, informed decisions as a region at the next meeting of the Commission on Phytosanitary Measures in 2017.
The report of the Workshop is available on the IPPC Regional Workshop website.