Rome, 11 September 2020 - The International Plant Protection Convention (IPPC) National Reporting Obligations (NROs) Workshop for Africa was held virtually from 10 to 11 September 2020, chaired by Ms Faith Ndunge, Implementation Committee Representative from Africa Region in the first day, and Mr Arop Deng, IPPC Integration and Support Team Lead chaired the second day. The workshop was attended by approximately 50 participants representing nearly 47 countries from the Africa region. The objectives of the NROs workshop was to share knowledge on NRO and its latest developments, National Plant Protection Organizations reporting on the IPP and their respective operational experiences.
During his opening remarks, Mr Deng highlighted the need for contracting parties to commit themselves to the reporting obligations as one of the Convention's pillars. Keeping the tenets of NROs by the contracting parties brings back trade benefits as it increases confidence of trading partners on county's plant health system.
The IPPC Experts, Mr Qingpo Yang and Ms Paola Sentinelli collaboratively delivered NROs presentations that included objectives of the workshop, NROs overview, its webpage and statistics, and pest reports in the first day. Participants discussed and shared information on NROs latest developments, challenges, frequently asked questions, and recommendations from the 2019 workshop. They also recommended a need for frequent training of NPPO editors and plant health officers on pest reporting and identification, improvement of NROs e-learning courses, as well as information sharing on pest status by individual countries during future regional workshops.
The closing remarks were given by Mr Jean Gerard Mezui Mélla, Director of the African Union Inter-Africa Phytosanitary Council (AU-IAPSC) who pledged IAPSC unlimited support to Zambia, the champion of the International Day of Plant Health (IDPH), and Mr Jean Baptise Bahama, Plant Production and
Protection Officer at the FAO Regional Office for Africa, who expressed his enthusiasm for improvement of organization of future workshops, when impacts of COVID-19 finally fade.
The report of the 2020 IPPC National Reporting Obligations Workshop for Africa will be published at the following link: https://www.ippc.int/en/core-activities/capacity-development/regional-ippc-workshops/
Presentations from the 2020 IPPC National Reporting Obligations Workshop are available at the following link: https://www.ippc.int/en/core-activities/information-exchange/nro-and-ipp-training/2020-nro-workshop-africa-region/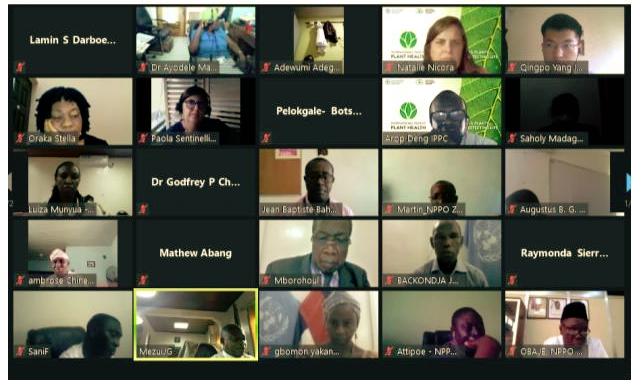 .....