Rome, 16 July 2020 –The IPPC Secretariat organized its 2020 Mid-year meeting virtually. The meeting was opened by Ms Beth Bechdol, FAO Deputy Director General, chaired by Mr Jingyuan Xia, IPPC Secretary, and attended by all staff members. Core team members made briefing on their main results of the 1st Semester and key activities of the 2nd Semester; staff members discussed how to strengthen teamwork for a better and more efficient teleworking, and IPPC Secretary Xia presented conclusion remarks.
In her opening remarks, DDG Bechdol noted "Plant health is of vital importance and we need to do our best to protect it". She showed her full support to the IPPC community at large, and utmost appreciation to the efforts made by the CPM Bureau and the IPPC Secretariat in such unprecedent times. "Despite the Covid-19 pandemic and all the cultural and management changes at FAO, plant health remains incredibly high on the global agenda. We are living in a "new normality" but even with all these changes we need to keep working together towards 2021 to deliver a remarkable International Year of Plant Health (IYPH)", stressed the DDG.
Many events turned virtual to keep promoting plant health during the lockdown. Regional and national initiatives kept proliferating worldwide despite the Covid-19 pandemic, showing that plant health is something we cannot leave behind. New creative contests and activities on the IYPH have been organized or extended till 2021 to allow more people to take part in this global campaign.
During the Covid-19 emergency, the IPPC ePhyto Solution became an incredible resource to facilitate safe trade, securing the exchange of phytosanitary certificates, and lowering the sanitary risks for the phytosanitary staff working at the entry points. As a result, over 90 countries have registered the IPPC ePhyto solution, and over 40 ones started exchanging ePhytos regularly.
The IPPC Secretariat is exploring digital solutions and new approaches to keep implementing the Convention and delivering relevant activities during the Covid-9 emergency. For example, the Standard Setting Unit reported that countries are now using the Online Comment System (OCS) to revise draft
standards during consultation periods: 4 draft International Standards for Phytosanitary Measures (ISPMs), 3 specifications, 12 phytosanitary treatments, and 1 CPM recommendation were indeed reviewed so far via OCS. The Implementation and Facilitation Unit highlighted the work on new capacity development guides and training materials, including new e-learning courses in cooperation with COMESA and COLEACP. The Integration and Support Team is facilitating the organization of governance meetings using digital means and making full use of the website, which is now available in all six FAO official languages, and social media accounts.
In his conclusion remarks, IPPC Secretary Xia highlighted ten major achievements of the first half of 2020, and five top priorities for the next half year. He expressed his sincere gratitude and high appreciation to all core team and staff members of the IPPC Secretariat for their active engagement and positive contribution to making successful completion of all tasks of the 1st Semester. Mr Xia encouraged entire IPPC Secretariat' staff to continuously strengthen the teamwork for a better and more efficient teleworking.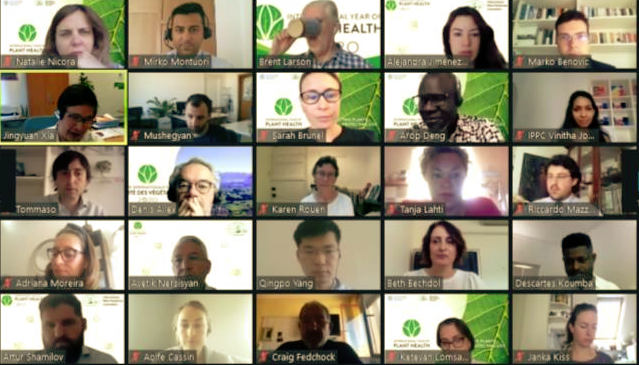 .....