Posted on Thu, 28 Nov 2019, 10:22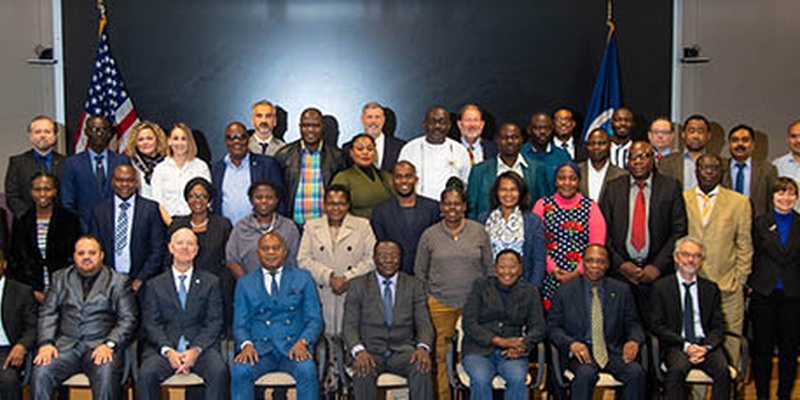 Workshop participants, including the staff from USDA/APHIS and the IPPC Secretariat, at the IPPC ePhyto and Emerging Pests Workshop. © USDA/APHIS
18 November 2019, Maryland, USA – The first IPPC ePhyto and Emerging Pests workshop for African countries took place from 18 to 22 November 2019 at the United States Department of Agriculture (USDA) Animal and Plant Inspection Services (APHIS) offices in Maryland, USA. The workshop was jointly organized by USDA and the International Plant Protection Convention (IPPC) Secretariat. It was opened by Mr John Greifer, Master of Ceremonies, Mr Osama El-Lissy, USDA/APHIS Senior official, Mr Craig Fedchock, IPPC Secretariat Special Advisor, and Mr Jean Gerard Mezui M'ella, Secretary General of the Inter-African Phytosanitary Council (IAPSC).
Workshop participants came from twenty-one African countries, the IAPSC, the Economic Community of Western African States and the IPPC Secretariat.
The IPPC ePhyto workshop
Key objectives of the IPPC ePhyto workshop were to ensure national plant protection organization (NPPO) participants:
• developed a strong understanding of the IPPC ePhyto Solution and more specifically the Generic ePhyto National System (GeNS);
• understood the benefits of GeNS for industry and government; and
• were able to prepare plans for implementing GeNs in their country and region.
The workshop included:
• a detailed demonstration on GeNS functionality and customization;
• an update from Ghana - a GeNS pilot country that has been exchanging ePhytos through the system since July 2019;
• a live demonstration of an ePhyto exchange between Ghana and the USA; and
• a breakout session where participants from different countries discussed what actions were needed to implement the ePhyto Solution.
Emerging Pests workshop
Immediately after the two-day ePhyto workshop, a workshop on emerging pests took place from 20 to 22 November 2019. An emerging pest is a pest that has been accidentally introduced into a country where it was previously unknown and produces considerable damage on plants. Several cases have been recently noted in Africa – including the Fall Armyworm (FAW) which is currently the region's most dangerous pest.
Representatives from APHIS and the North American Plant Protection Organization (NAPPO) gave presentations on surveillance activities for emerging pests and pest management in the United States, with a focus on FAW. Their presentations were complemented by updates from Zambia and South Africa about their experiences in surveying and managing these pests. Simulation exercises on new ways to detect and respond to pests were also organized.
Some participants noted that implementing the methods explained by APHIS in Africa would require additional support in terms of funding and human resources. Nonetheless, they appreciated the information provided as a starting point for protecting plant health in their countries. Participants committed to finding solutions adapted to their national conditions with the help of the IPPC and APHIS-USDA.
The emerging pest workshop was hosted by APHIS and jointly funded by the APHIS and the IPPC.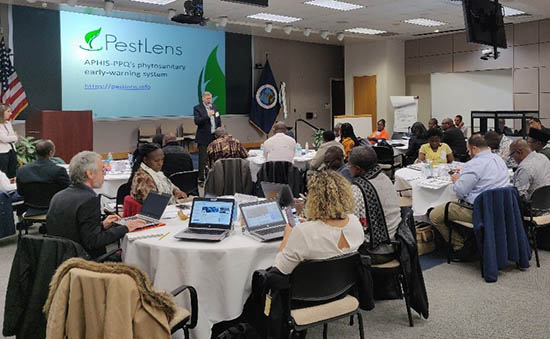 Participants from 21 African countries attended the IPPC ePhyto and Emerging Pests workshop. © FAO