Posted on Tue, 07 Jan 2020, 14:23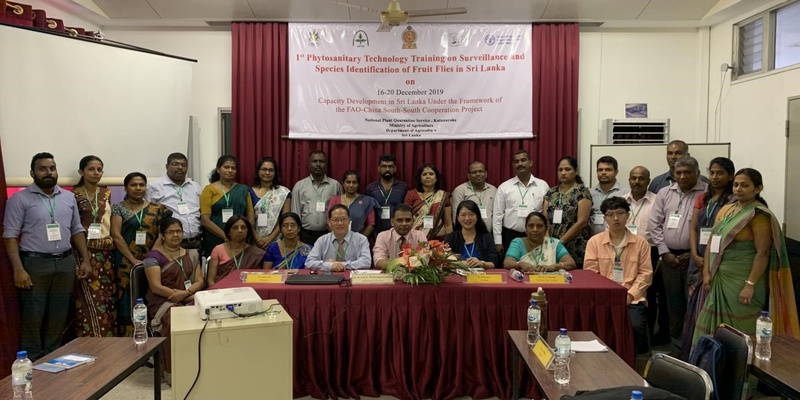 Participants of the first phytosanitary technology training on surveillance and species identification of fruit flies of concern to Sri Lanka © FAO
Colombo, 16 December 2019 - In the framework of the IPPC China South-South Cooperation project, the first phytosanitary technology training on surveillance and species identification of fruit flies of concern to Sri Lanka was organized between 16-20 December 2019 in Colombo, Sri Lanka. Dr. Zhihong Li and Dr. Yue Zhang (China Agricultural University) as well as Dr. Jiajiao Wu (Guangzhou Customs District) delivered training in the following areas: a. Surveillance, including which trapping systems to use for surveys of fruit flies, how to analysis monitoring data of economically important fruit flies and how to prepare emergency action plans forexotic fruit flies; b. Species identification, including morphological and molecular identification of economically important fruit flies (using DNA Barcoding and specific-primers PCR).
Three days were dedicated to lectures and two days to practical activities. Participants learned how to set and check fruit fly traps and how to use molecular techniques to diagnose the larva of Bactrocera minax and Bactrocera tsuneonis which are hard to identify through morphological characteristic methods.
The National Plant Quarantine Service of Sri Lanka acknowledged and appreciated this training course which greatly improved their ability for the surveillance and identification of fruit flies. A second training course is planned for later in 2020 on mass rearing, treatment methods (such as vapor heat treatment and hot water treatment) and integrated pest management of economically important fruit flies and Sternochetus mangiferae (mango seed weevil).
Learning how to set up fruit fly traps in an orchard © FAO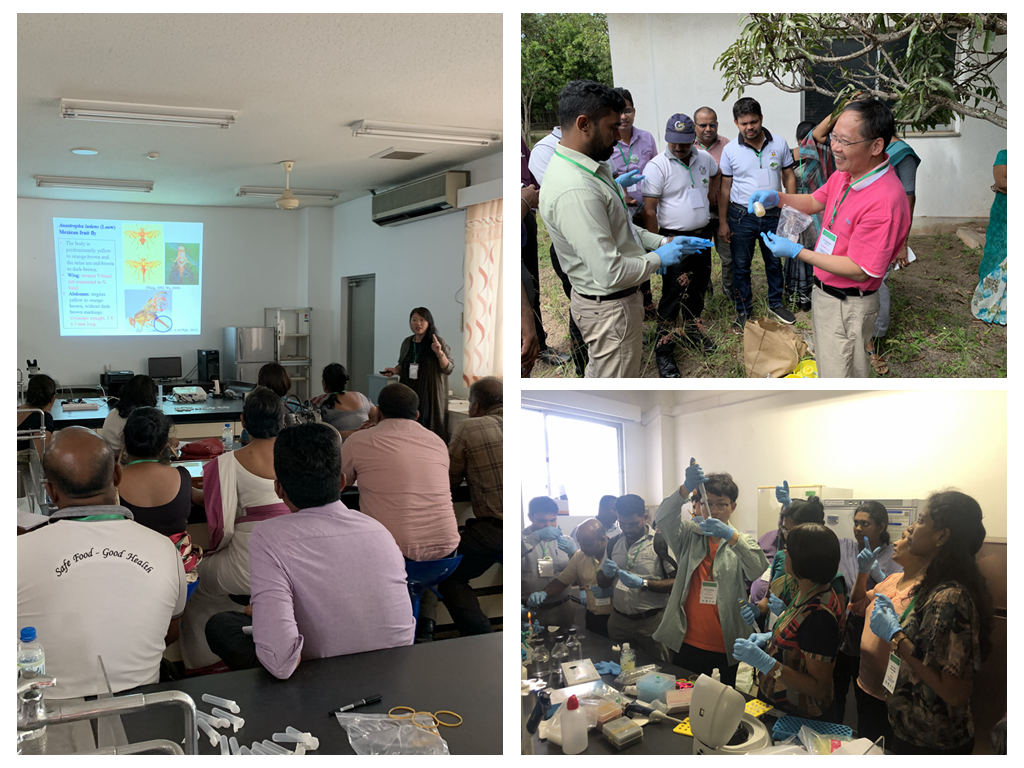 Lectures and experiments during the training © FAO