Posted on Tue, 07 Jan 2020, 11:38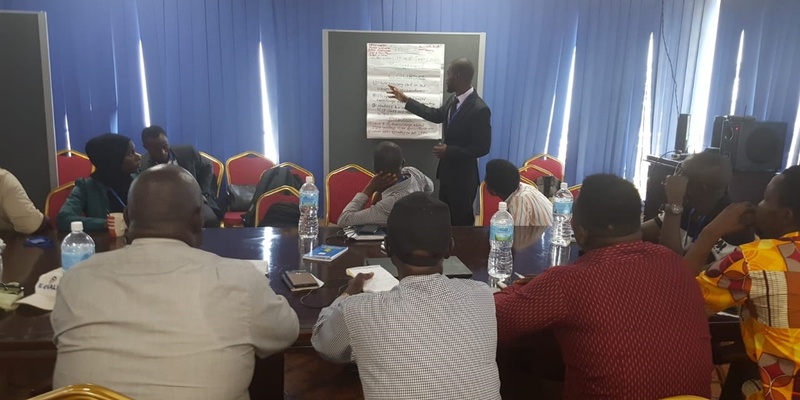 A Group presentation during the first PCE mission in Sierra Leone © Ruth Wood
5 November 2019, Freetown - The Ministry of Agriculture and Forestry (MAF) of Sierra Leone recently launched a new Agriculture Value Chain Development initiative to achieve sustainable vegetable production in the country and requested the Comité de Liaison Europe-Afrique Caraïbes-Pacifique (COLEACP) to support the implementation of those activities.
In the framework of its collaboration with the IPPC Secretariat, COLEACP agreed to finance the implementation of a Phytosanitary Capacity Evaluation (PCE) in Sierra Leone to revise the national phytosanitary legislation and draft a phytosanitary capacity development strategy for the country by consensus with all stakeholders.
The first PCE workshop was therefore organized from 5 to 8 November 2019 in Freetown, Sierra Leone, with the active participation of the government of Sierra Leone, local institutions and universities. Representatives from the Sierra Leonean Ministry of Agriculture and Forestry; the Ministry of Fisheries Marine Resources; the Ministry of Trade and Industries; the Ministry of Health Sanitation; and the Ministry of Justice attended the workshop. Members of the Sierra Leone Port Authority; the National Farmers Federation; the Sierra Leone Chamber of Agriculture Development, among others, also gathered in Freetown to attend the event.
The workshop was facilitated by Ms Ruth Woode under the supervision of Mr Mekki Chouibani, in collaboration with Ms Raymonda Johnson, National PCE Coordinator of Sierra Leone and Ms Benedicte Werner, Regional Programme Manager of COLEACP. From the IPPC Secretariat, Ms Sarah Brunel, Implementation Facilitation Officer, provided technical and operational guidance to successfully implement the process.
The following PCE modules were completed:
External forces assessment (Module 3);
Structure and mission of the NPPO (Module 4);
Export certification, transit and re-export (Module 13).
Stakeholders were strongly motivated and actively participated in the workshop to better understand the mission of the National Plant Protection Organization (NPPO). The legal framework, one of the fundamental outputs of the project, which is of crucial importance for the NPPO and the country's international obligations, is yet to be analyzed.