Posted on Thu, 21 Jun 2018, 11:44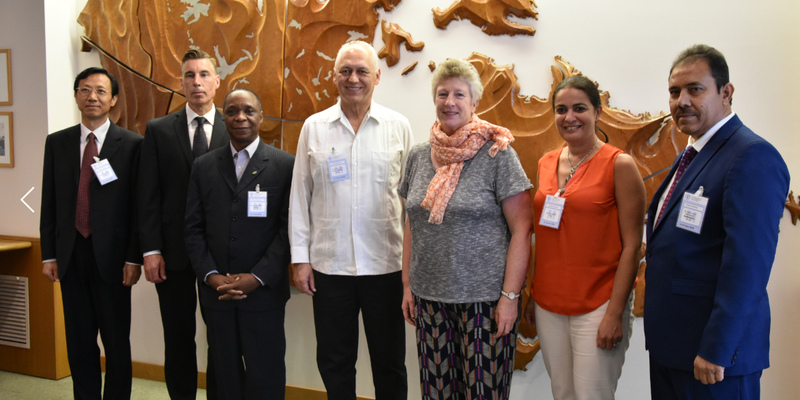 The June 2018 CPM Bureau meeting was held on 11-15 June 2018 in Rome, Italy with participation of all seven Bureau members as well as all core team members of the IPPC Secretariat. The meeting was chaired by the CPM Chairperson, Mr Javier Trujillo (Mexico), and opened by Mr Jingyuan Xia, the IPPC Secretary.
The meeting started with the discussion of the action points of the April 2018 Bureau meeting and the CPM-13 followed by the updates from the IPPC Secretariat and the report of the IPPC Financial Committee (FC) Meeting in June 2018.
The Bureau members discussed and agreed on different important strategic, budgetary and work plan related issues, such as the proposed minimum staffing requirements supported by the FAO regular programme for basic operation of the IPPC Secretariat; the five year investment plan of the IPPC Secretariat developed by the FC; the strategy to increase IPPC Secretariat s funds from FAO Regular Programme; and draft work plan and budget of the IPPC Secretariat for 2020. Bureau members were also briefed about the progress with revision of the IPPC Strategic Framework for 2020-2030 based on the comments and agreed actions of the CPM-13.
The Bureau members had an opportunity to meet the representatives of different Divisions/Units of the FAO Office for Corporate Communications (OCC) to discuss the support to the IYPH 2020, assess the communication/media coverage of the CPM-13 and strengthening support of the OCC to IPPC activities, and the process of the migration of the IPP under FAO.org and its implications on the accessibility to information, and IPPC branding and identity.
In terms of trade facilitation issues, the Bureau discussed the draft ToRs, membership selection and financial support of the focus group on commodity and pathway standards; the progress with the Trade Facilitation Action Plan; and the five-year strategic plan for the IPPC ePhyto solution: Transitioning from project to business as usual operation.
The Bureau meeting concluded with the general agreement on the agenda items of the October 2018 Strategic Planning Group (SPG) meeting as well as the CPM-14 agenda items, special topics session and side sessions.