Washington DC, 20 May 2020. FAO North America and Corteva Agriscience organized a virtual roundtable in the context of the International Year of Plant Health (IYPH) 2020 to discuss the role that the global community and other relevant stakeholders are playing to protect plant health during the global COVID-19 pandemic. The event was opened by Mr Vimlendra Sharan, Director at FAO Liaison Office in Washington DC, and moderated by Ms Kira L. Bowen, Professor at the Department of Entomology and Plant Pathology of the Auburn University and Immediate Past President of the American Phytopathological Society. The IPPC Secretary, Mr Jingyuan Xia, was invited to present a keynote speech. The event was attended by a wide audience of over 380 participants.
Under the theme "Protecting Plant Health for a Secure Future: A call for Global Action", presenters highlighted the vital role plant health plays in solving key global challenges, including hunger and poverty. Plants provide most of the food we eat and sustain the economies of many countries in the world, especially the most vulnerable.
Protecting plant health starts with prevention, highlighted by Mr Xia in his keynote address. The implementation of IPPC's International Standards for Phytosanitary Measures is of fundamental importance to reach this goal and secure global plant resources from pests and diseases. As noted by the IPPC Secretary, preventive measures not only help protect plant health, but also boost food security, facilitate safe trade, and protect the environment.
Among the presenters was Mr Osama El-Lissy, Deputy at USDA APHIS, who highlighted his agency's role in safeguarding agriculture and facilitating safe trade. He recalled the importance of building strong phytosanitary systems with analytics and risk assessment models, as well as the need to invest in electronic phytosanitary certification to protect plant health and facilitate safe trade.
Mr Henri Moore, Vice-President of Global Responsibility at Corteva, highlighted how his company's mission to enrich the lives of both producers and consumers has been made possible with the active involvement of smallholder farmer, customers and through partnerships with international organizations, including FAO.
Participants learned what the global community has done so far and keeps doing to protect plant health worldwide, what role farmers and agribusinesses are playing, and how food companies are interacting with supply chains to drive improved plant health. Most importantly, they agreed on the need of taking a global action to protect plant health and take an active role in IYPH 2020.
A recording of the webinar is available here: https://bit.ly/0520Recording
See the Twitter feed of the event here: https://twitter.com/FAONorthAmerica/status/1263171268427354112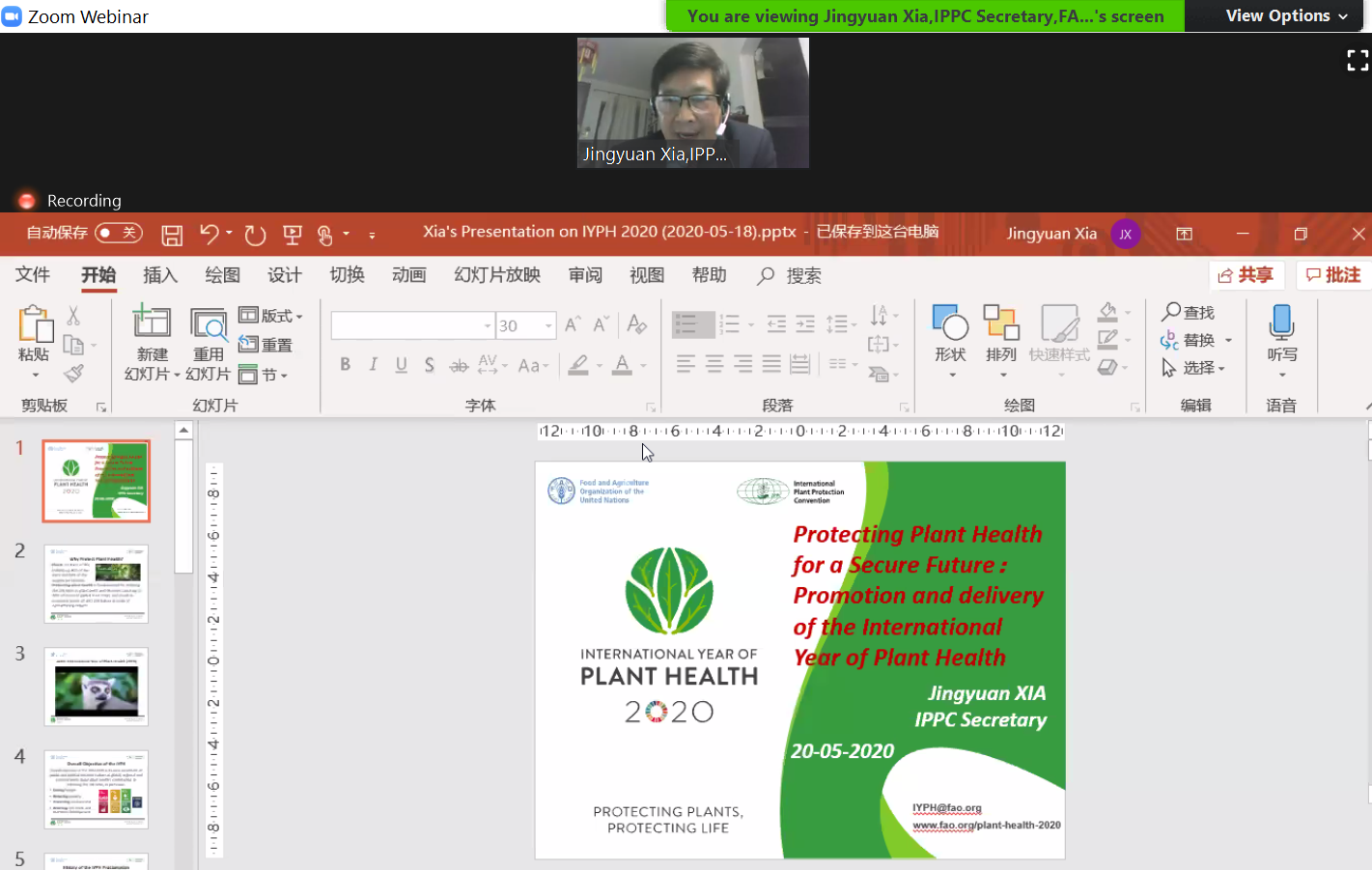 .....