Posted on Wed, 11 Sep 2019, 11:38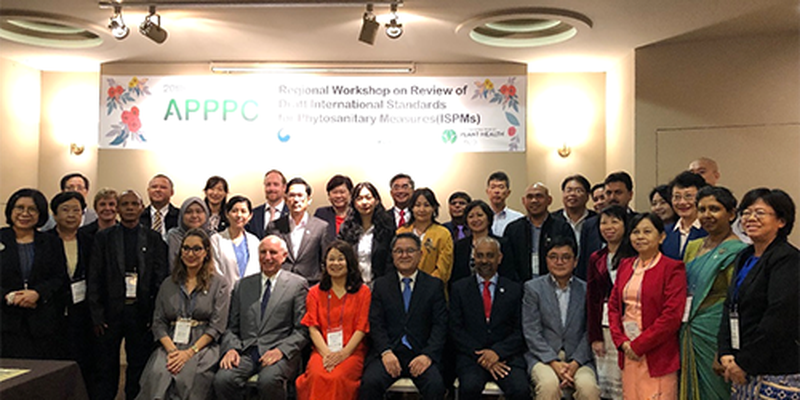 Photo: Opening ceremony of the 2019 APPPC regional workshop for Asia and Pacific regions. ©APPPC
06 September 2019 (Busan, Republic of Korea) – Over 35 participants of 20 countries of Asia and Pacific regions met in Busan, Republic of Korea for a fruitful week to discuss plant health matters, focusing on plant health standards from the International Plant Protection Convention (IPPC). During the week, participants prepared regional positions on international standards, received updates from several IPPC activities such as the newly endorsed IPPC 2020-2030 strategic framework, updates from committees and projects, and shared experiences in plant health.
The participants also discussed other IPPC documents under consultation, as for example the draft CPM recommendation on "Safe provision of food and other aid to prevent the introduction of plant pests during an emergency situation", highlighting that this topic is of great importance to the region and several experiences were shared. The participants also discussed the Ministerial declaration to be presented at the Ministerial session of the Commission on Phytosanitary Measures (CPM) next year (CPM-15, 2020), in the occasion of the International Year of Plant Health (IYPH).
Participants also shared experiences with the IPPC e-phyto project, surveillance and sea containers cleanliness programmes, and experiences in developing commodity and pathway regional standards, highlighting that the Asia and Pacific regions are in the front-running on several plant health initiatives.
The Asia-Pacific Plant Protection Commission (APPPC), among other activities, helps its members analyze risks to their national plant resources and use science-based measures to safeguard their cultivated and wild plants. For many years, the APPPC is leading the organization of regional workshops on draft international standards for phytosanitary measures (ISPMs) and with Republic of Korea, by its Animal and Plant Quarantine Agency, hosting and providing support to the workshops.
The workshop in Busan, Republic of Korea was one of seven annual IPPC related regional workshops hosted around the world in 2019.
More information:
• IPPC Regional Workshops: https://www.ippc.int/en/core-activities/capacity-development/regional-ippc-workshops/
The workshop meeting report will be available soon.