Posted on Mon, 06 Feb 2017, 11:11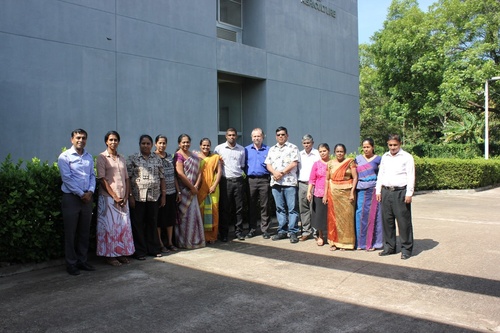 Above: Left to Right: DMJB Senanayake, RAP Ranaweera, LC Hewage, NS Assala Arachchi, NJM Nathavitharana, J Nimanthika, KC Withanage, P Neimanis, C Karunaratne, WMD Wasala, IK Warshamana, MTMDR Perera, MPM Senarathne, JPL Hettige.
Mr Peter Neimanis, the Chair of the IPPC ePhyto Steering Group (ESG), and Mr Chin Karunaratne, the representative of ESG, travelled to Sri Lanka from the 10th to 17th of December 2016. The main objective of this business travel was to continue project planning with officers of the Department of Agriculture, Sri Lanka for implementation of the Generic ePhyto National System (GeNS). These dates included meetings with the Minister of Agriculture, University of Peradeniya, and Information Communication Centre (ICC) in Peradeniya and the Australian High Commission in Colombo. The officers also visited two quarantine clearance facilities (Airport –Mattala; Quarantine Station – Gannoruwa), delivering presentations and conducting two Industry Awareness Sessions (IAS) at the Chamber of Commerce, Colombo for the exporters and importers in partnership with the National Plant Protection Organisation (NPPO) in Sri Lanka.
The specifications of the proposed ePhyto Solution and the future steps required for Sri Lanka to implement the GeNS were discussed in-depth, with following outcomes obtained:
1) Relationship was built with the Minister of Agriculture, Colombo, which will be beneficial for future work.
2) IAS targeting four hundred (400) exporters and importers was held at the Chamber of Commerce to brief them about setting up of GeNS with the Sri Lankan Department of Agriculture under the direction of ePhyto Steering Group (ESG) and the International Plant Protection Convention (IPPC).
3) Future workshop option to address different domestic legal, information technology, funding and capacity development challenges will be confronted by the Sri Lankan NPPO.
4) Future implementation of ePhyto Benefit Analytical process will be undertaken by the University of Peradeniya.
Below: Industry Awareness Session at the Chamber of Commerce (Sri Lanka) in progress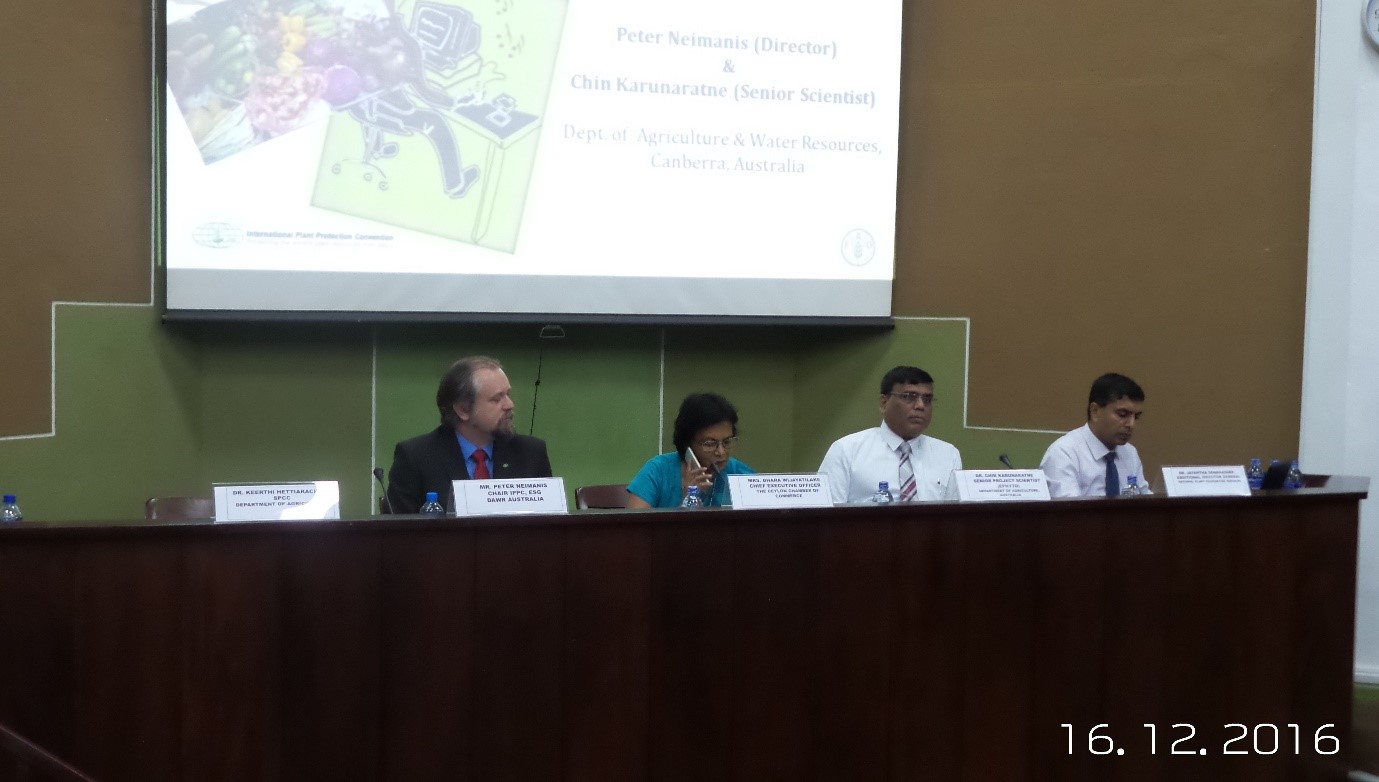 Left to Right: Peter Neimanis; Dhara Wijayatilake (Chief Executive Officer-Chamber of Commerce), Chin Karunaratne (Senior Scientist, Dept. of Agriculture -Australia); Jayantha Senanayake (Additional Director, Dept. of Agriculture – Sri Lanka)
Share on Facebook