Posted on Wed, 03 Feb 2016, 17:37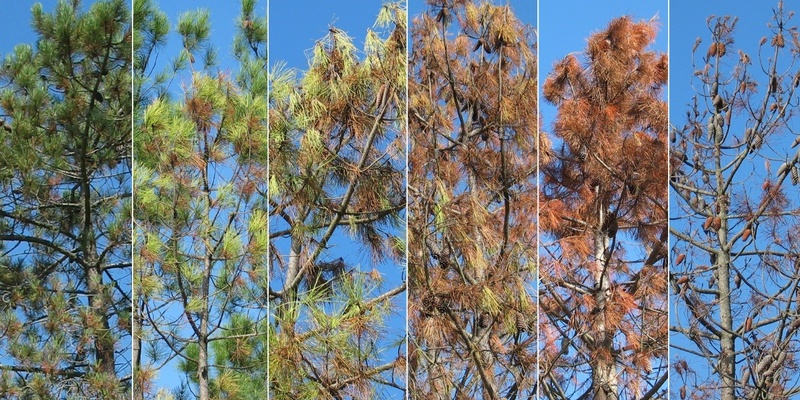 Photos: Evolution of symptoms of pine (Pinus pinaster) infested by Bursaphelenchus xylophilus, from healthy tree to dead. (Photo courtesy T. Schröder, Julius Kühn-Institute, Germany.)
Diagnostic Protocols newly adopted!
The IPPC Secretariat is delighted to announce that on 30 January 2016 three more diagnostic protocols (DPs) have been adopted by the Standards Committee (SC) on behalf of the CPM (Commission on Phytosanitary Measures):
DP 10 (Bursaphelenchus xylophilus) (2004-016)
DP 11 (Xiphinema americanum sensu lato) (2004-015)
DP 12 (Phytoplasmas) (2004-018)
These DPs have now been added to the suite of adopted diagnostic protocols, Annexes to ISPM 27 (Diagnostic protocols for regulated pests). The development of these protocols is thanks to the dedication and commitment of the DP drafting groups as well as the Technical Panel on Diagnostic Protocols (TPDP) and various experts from around the globe.
DPs continue to help contracting parties in implementing proper pest detection and pest identification for the appropriate application of phytosanitary measures.
For more information, please visit the page http://www.ippc.int/en/core-activities/standards-setting/draft-ispms/notification-period-dps/
The new adopted DPs will soon be posted in its final format at https://www.ippc.int/en/core-activities/standards-setting/ispms/
Formal objections for approved DPs must be submitted to the IPPC Secretariat via email at IPPC@fao.org.