Posted on Fri, 20 Dec 2019, 10:36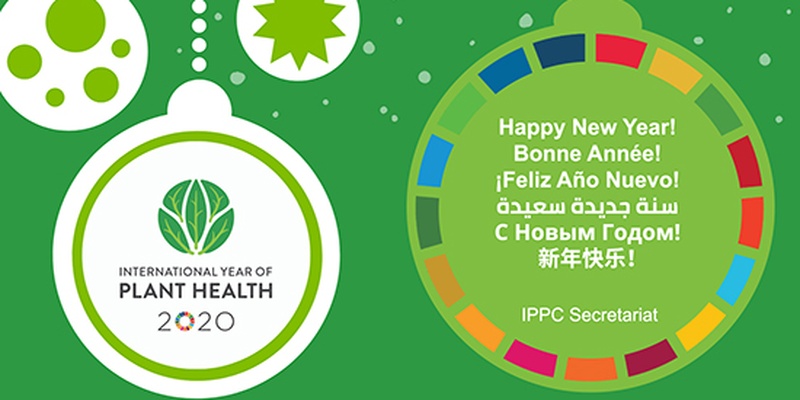 Dear Colleagues of the IPPC Community,
On behalf of entire IPPC Secretariat, I am pleased to convey my sincere greetings to you for the International Year of Plant Health 2020, and express my high appreciation to you for your continuous support and outstanding contribution to the IPPC Work Programme throughout 2019.
2019 has been a memorable year for the IPPC, with much progress made on dissemination of the IPPC annual theme of "Plant Health and Capacity Development". Among the many achievements in this year, allow me to name a few:
The promotion of the International Year of Plant Health (IYPH) in 2020 has been fully prepared, with its launch event successfully organized at the FAO-HQs on the 2nd December.

The IPPC Strategic Framework for 2020-2030 and the five-year investment plan of the IPPC Secretariat for 2021-2025 have been endorsed at the CPM-14.

Eight standards have been adopted, including two ISPMs and six diagnostic protocols, and seven IPPC Regional Workshops have been organized, with presence of a record number of participants.

The IPPC ePhyto solutions have been completely developed, covering ePhyto hub and the Generic ePhyto National System (GeNS), and over 70 countries have been registered for their application.

A series of activities have been organized to showcase the 2019 IPPC annual theme, resulting in increased cooperation with over 30 international and regional organizations, such as CBD, COLEACP, IAEA, STDF and WCO.

The operational mechanism of the IPPC Secretariat has been substantially optimized towards "Performance-based and Result-driven Management", and the team work has been continuously improved towards "One and Strong IPPC".
2020 will be an exceptionally important year for the IPPC community, as there is only once a lifetime opportunity for all of us to deliver the IYPH. I strongly encourage you to actively participate in all the IYPH activities worldwide, and to make your positive contribution to its success. Only in this way, could we work hand-in-hand to build a solid multidisciplinary community entirely committed to plant health, and finally give to plants the importance they deserve.
Once again, I thank you all, and wish you a happy and prosperous new year 2020.
Jingyuan Xia
IPPC Secretary
International Plant Protection Convention Secretariat
Food and Agriculture Organization of the United Nations
Address: Viale delle Terme di Caracalla, 00153 Rome, Italy
Tel.: +39 06 570 56988 (Office); +39 339 2535 863 (Mobile)
Email/Skype: [email protected]
Web: www.fao.org | www.ippc.int