Posted on Tue, 31 Oct 2017, 08:58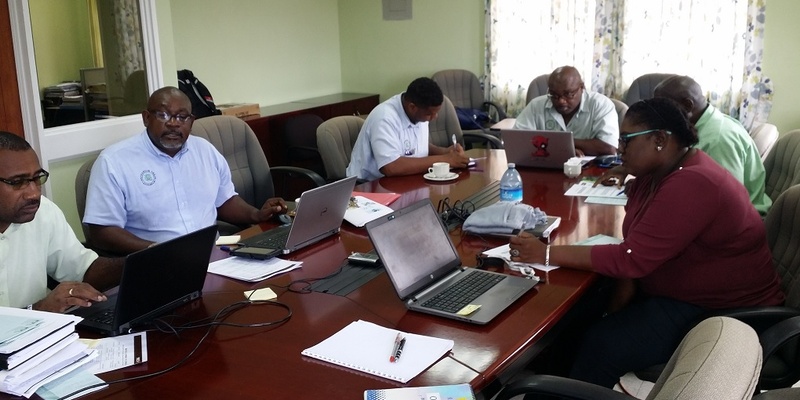 Copyright Fitzroy White 2017. PCE workshop participants reviewing PCE modules during Barbados 2nd PCE Workshop held in Bridgetown Barbados
A second mission for the application of the Phytosanitary Capacity Evaluation (PCE) tool was conducted in Bridgetown Barbados, October 2 - 6, 2017. This mission was carried out by Mr. Fitzroy White, PCE Facilitator trained through STDF 401 Project to validate the work conducted during the 1st PCE workshop held in May. It also served to guide the finalization of the PCE process for Barbados, and to prepare for the development of a strategic plan to take place during the 3rd and final mission in this PCE process.
The 2nd PCE workshop brought together the PCE Facilitator, Mr. Fitzroy White, the Head of the NPPO for Barbados, and National PCE Coordinator, Mr. Michael James, Deputy Chief Agriculture Officer Mr. Leslie Brereton, seven Plant Quarantine Officers, and staff from the Ministry of Agriculture. External stakeholders from the private sector, including plant importers, representatives from distributing companies, and agriculture development were present.
Mr. White kicked off the workshop by reviewing the progress made since the first PCE application and addressing issues identified in previous modules covered by PCE workshop participants. The workshop participants reviewed their own NPPOs vision and mission in light of discussions during the 1st PCE workshop. The participants learned about various components of the logical framework and were tasked to develop their own logical frameworks in a group exercise. Fifteen plant quarantine inspectors have been trained in understanding and applying the IPPC provisions. The training ended with discussions on strategic plans that will be further elaborated during the 3rd and final PCE validation mission.
The next PCE validation mission is tentatively scheduled for 20 - 24 November 2017.