Posted on Tue, 08 Mar 2016, 07:22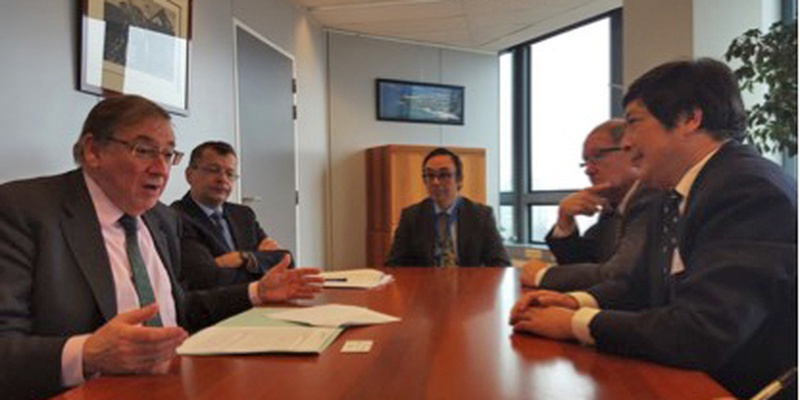 The Bilateral Meeting on Strengthening the Cooperation between the IPPC and the European Union (EU) was held 1 March 2016 at EU-HQ in Brussels, Belgium. The IPPC delegation, led by Mr Jingyuan Xia (the IPPC Secretary), was composed of Mr Craig Fedchock (the IPPC Coordinator), Mr Orlando Sosa (the Implementation Officer) and Ms Celine Germain (the Standard Officer). The main objectives of the Meeting were to review the previous achievement of this bilateral cooperation, especially for the past 5 years, and to plan further cooperation for the next 5 year (2016-2020), in particular for the period 2016-2018. There were two major meetings: one with Mr Jean Luc Demarty (the Director-General of Trade) and Ms Sandra Gallina (the Director of Agro-Trade), and another with Mr Xavier Prats Monne (the Director-General of Health and Food Safety) and Ms Dorothee Andre (the Head of Biotechnology and Plant Health).
In both meetings, the IPPC Secretary made briefings on the main achievements of the IPPC-EU cooperation, the strategic plan of the IPPC towards 2020 and its work related to UN Sustainable Development Goals (SDGs) towards 2030, and the great opportunity for strengthening the IPPC-EU cooperation. He also put forward a concrete proposal on the short- and mid-term cooperation between the IPPC and the EU. Both Director-General of Trade and the Director-General of Health and Food Safety stressed their commitment to plant health and continuous support to the work of the IPPC. They also noted their concern about the IPPC s work on dispute settlement and the increasing incidence of Xyllela fastidious in Europe. Of particular importance was the commitment of the EU to sustain support to the Secretariat in the future along the lines of a new project which is intended to address the vital needs for the entire IPPC Secretariat.
Both sides agreed that there is an increasing necessity for strengthening the IPPC-EU cooperation in the contribution to the UN-SDGs, in particular to the SDG 17 (Trade Facilitation) through promotion of the safe, fast and efficient trade.